Taqueria el Poblano is the home of the area's Best Margarita but it is so much more than just that. 
Under a modest green awning labeled simply "Mexican Restaurant," Taqueria el Poblano offers a casual and comfortable taste of Mexico in the D.C. area. The small dining room is filled with tables draped with brightly colored tablecloths and is decorated with traditional-style artwork, black and white photographs of Mexico's past, and numerous framed awards that the restaurant has won in the local area. From their esteemed California Mexican cuisine to using all local and fresh ingredients, it's no wonder that this small spot has expanded into three locations and become an area favorite.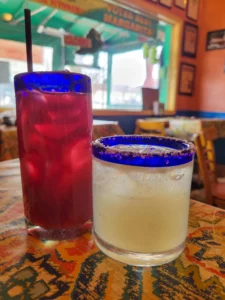 The award for the D.C. area's "best margarita" is impossible to miss, as it is memorialized on a giant banner strung across the front window. With this endorsement, how could you not try it? We ordered one Taqueria margarita and one Mexican sangria. You can always taste the difference between a real margarita and a cheat by the sour mix. This one was definitely real, made with lime juice as listed on their menu. It came rimmed with coarse salt and was delicious, if not a little sweet for my taste. The Mexican sangria was a red sangria spiked with brandy. Despite its potency, it tasted like sweet juice — a dangerous cocktail!  
Along with our drinks, a plate of tortilla chips and salsa was brought to our table. The salsa was deep red, thick with tomato and spice, and was instantly addictive when piled high on the crispy, salted chips. A server would regularly walk through the dining room to refill the salsa from a large container and offer more chips, which was an awfully hard offer to resist because you would look down and find that you once again had polished off what was just in front of you.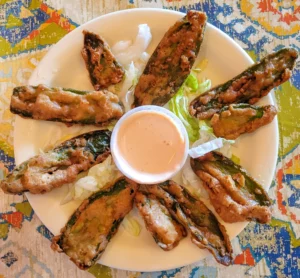 In addition to the regular menu, a whiteboard posted in the entry lists the day's specials. Although easy to walk past without noticing, this board is always worth the effort of getting up from your table and standing around to read. We ordered the special appetizer of fried jalapeños, which were lightly beer-battered jalapeño halves served with an ancho-lime crema for dipping. Frying the jalapeños gave them a blackened, roasted feel. Since they were not heavily coated in batter, they did not feel heavy or overly oily. The refreshing, creamy, and tangy crema made a great partner to the hot peppers. 
When it came time to order our entrées, we decided to try one of the day's specials and one classic from the regular menu. The special enchiladas mole poblano was a plate of chicken and cheese enchiladas smothered in a chocolate mole sauce and served with seasoned rice, Mexican slaw, and pico de gallo. The slaw and pico were clearly fresh, with crisp cabbage, juicy tomatoes, and sharp red onion. The earthy mole sauce topped with sesame seeds certainly completed the authentic dish.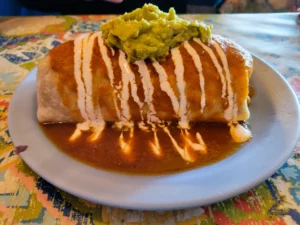 One of the most impressive items on the regular menu is the burrito, which is available with pork, chicken, beef, vegetables, or beans. Your choice of filling is rolled with refried beans, cheese, and pico de gallo, and can be ordered "a mano," meaning plain, or "al arriba," which includes a topping of guacamole, ranchero sauce, and crema. There's no question here: go for the "al arriba." We opted to try the green chile pork under this slew of toppings. The sheer size of the burrito placed in front of you is reason enough to order this dish; it could easily satisfy two people. Despite its size, there is nothing gimmicky going on here; instead, what you will receive is a well-seasoned, evenly distributed Mexican masterpiece.  
There is nothing pretentious about Taqueria el Poblano. What you should come for are the food and drinks, and they will deliver excellence every time. They clearly take pride in their products and their successes. If you fall in love with the area's "best" margaritas, you can leave with some to enjoy at home; they offer two sizes of to-go cartons of this signature drink. One thing is for sure: you will not leave hungry.