Taquería los Puñales is serving up classic Mexican street tacos and more.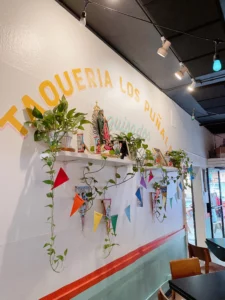 On the street of SE Belmont is an authentic Mexican taqueria, Taquería los Puñales. You cannot miss it, loud and proud of their roots, they have decked the restaurant with colorful decor. The flag of Mexico combined with the Pride flag hangs in the entrance window, and photos of prominent figures in both the LGBTQ+ and Hispanic communities are strewn about the space.
Behind the operation are owners Brain Aster and David Madrigal, two queer, Latino men, on a mission to make some fantastic Mexican fare for the people of Portland.
Now onto the food and drink. They are an order-at-the-counter type of restaurant. So you walk in, place your order, pay, sit down, and then they deliver everything to your table.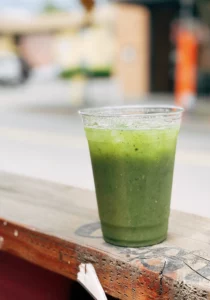 While the drink fridge filled with Jarritos was tempting, I decided to try one of their housemade agua frescas. They all looked so delicious and refreshing, each drink option displayed near the front counter in glass jars. The Cucumber Lime Mint one was calling my name. It was delectable, and thirst-quenching, you could definitely taste each of the key ingredients. My only caveat would be that it is pulpy, so if that bothers you, I would try a different one! I don't mind some pulp, so I would definitely order it again.
To start off the meal, we ordered some chips and salsa. The chips were hot, I am guessing they had just been fried. I could have easily eaten an entire bowl by myself. They were crispy, crunchy, and thick, sprinkled with sea salt. You get a small cup of housemade salsa, no free refills, on the side. I swear I could have drunk that salsa, it was so good, so obviously I wish that they gave us more initially.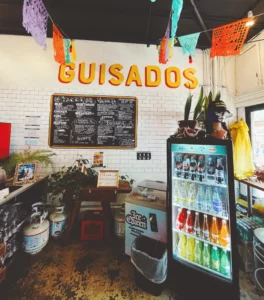 To eat, I got a Pollo la Tinga taco and a Carnitas taco. The pollo taco was filled with juicy shredded chicken sautéed with caramelized onions and braised in a house-made chipotle sauce. It was finished off with some Mexican sour cream. The carnitas taco was nothing fancy, and exactly what I was hoping for. Braised pork shoulder, garnished with onions and cilantro. The carnitas were crispy yet juicy, folded in a house-made corn tortilla!
They have a salsa bar in the back of the restaurant with squeeze bottles of salsa verde and salsa rojo. I am a sucker for a good salsa verde, and Taquería los Puñales has a great salsa verde. So I proceeded to put plenty of the salsa verde on the tacos, however, they would be just as excellent without the added salsa.
One of my friends ordered two Chorizo Breakfast Tacos, which are scrambled eggs with grilled pork sausage in a house-made corn tortilla. A breakfast taco connoisseur, he wished he had ordered three! The other person in the group ordered a Tinga de Pollo Bowl, breaking his B+ vegetarian lifestyle. Although Taquería los Puñales offers plenty of vegetarian and vegan options, the tinga de pollo was too tempting to pass up.
I have already added Taquería los Puñales to my regular rotation and will be back to dine again soon. Not only do they make some incredible Mexican cuisine, I love that I am supporting a queer and Latino owned establishment. So the next time I have a hankering for Mexican food, I will be headed to Taquería los Puñales. Good food and good people, what more could you ask for?