Transport into a 1950s diner at Rockabilly Cafe in north Portland.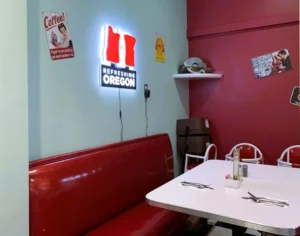 When I heard Rockabilly Cafe, a 1950s-style diner, opened in the St. John's area in Portland, I immediately wanted to try it. My go-to North Portland brunch spot closed last year due to COVID, and I hadn't found anything to replace it. I love the classic Americana of diners, and I was especially intrigued when I saw that Rockabilly Cafe places emphasis on organic and locally sourced ingredients. They also have a range of gluten-free and vegan options, including vegan milkshakes.
Rockabilly Cafe is located by the shops, pubs, and restaurants on the "main street" of St. John's neighborhood — once a historic town before being incorporated into Portland. Around the corner is off-street parking attached to the back of the building. On a nice Portland day, grabbing a bite at Rockabilly Cafe and walking around St. John's sounds pretty ideal!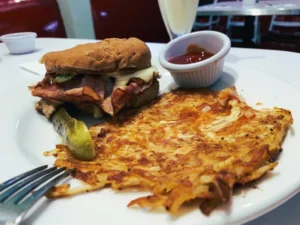 Once inside, I was taken in by the retro, 1950s-inspired decor. Rockabilly Cafe is particularly inspired by the car culture of that time. Old steering wheels are hung on the walls, and models of vintage cars line shelves above booths.
The menu has all the staples I'd expect from a diner: eggs and bacon, omelets, chicken fried steak, biscuits and gravy, and eggs Benedict, as well as sweeter options like pancakes, waffles, and French toast. Breakfast is also served all day.
Since I went to Rockabilly Cafe in the evening, I wanted to try something off their dinner menu. I got "The Ricky," their Cubano sandwich, with hashbrowns on the side. The Ricky is filled with all the good stuff: ham, roasted pork, swiss cheese, pickles and mustard, all pressed on a french roll. To drink, I got their "Rotten Apple" milkshake, which is a cinnamon apple-flavored shake with a shot of bourbon (yes, they have boozy and regular shakes).
The food was delicious, and the servers were friendly and helpful. I always feel good supporting a restaurant whose food is sourced from high-quality and ethical ingredients. Rockabilly Cafe is proud to source ingredients from places across the Pacific Northwest, like Painted Hills, Oregon Spice, West Coast Coffee, and Henry Higgins Bagels. The milkshake was exceptionally memorable, and the serving size left plenty to share with a date or friends.
I'm already planning to go back so I can try more of their inventive flavors. Whether for a fun, casual brunch or a date night, I definitely recommend Rockabilly Cafe. Since it only opened a month or two ago, it hasn't yet been "discovered," so you'll have no trouble getting a seat without having to wait (how many brunch spots in Portland can you say that about?)