Legendary barbecue served at

The County Line Grill and Steakhouse

i

n Albuquerque. 
Nestled in the Northeast Heights of Albuquerque and right in the foothills of the Sandia Mountains, the County Line Grill and Steakhouse sits. I'd never been there before, and when I pulled into the parking lot, I was glad I finally did. The location is very rustic, and the restaurant has a country vibe. 
Everything inside The County Line is country, including the walls, floor, decor, tables, and atmosphere. The wait staff is friendly, and it's the one place I've found where I didn't mind being called "hon." 
I was seated just off the middle of the room, but the view through the big windows was so epic that you could have seen it even if you were sitting in the back. The entire city of Albuquerque was visible from my table. 
Besides having a great view right off the bat, the first order of business naturally was ordering a drink. I opted for the non-alcoholic strawberry lemonade since I was driving. It was refreshing and not very sweet, the perfect accompaniment to my meal.  
Speaking of lunch, I had a hankerin' for ribs, and with a name like The County Line, I figured there might be ribs on the menu. I wasn't wrong. The meal began with a house salad, which was just what the doctor ordered, and it came with their famous homemade bread. It's famous because it's the first thing everyone asks for when they order. Merely looking at it made my mouth water.  
The St. Louis Pork Rib Platter was the entrée I had my heart set on, but I only ordered a half rack since, although my eyes may be bigger than my stomach, it would have taken me weeks to eat the full rack! As if the platter itself wasn't enough, it also came with two sides. I opted for coleslaw and fries. The coleslaw was perfectly tangy, and the fries were hot and crispy.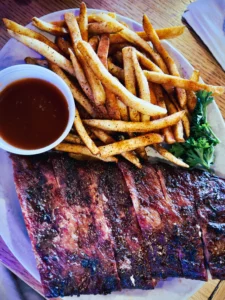 Nearly stuffed to the gills, it was time for dessert. Yep, there's dessert too. And man, oh man, it was worth saving room for. The County Line has five options available: Blue Bell Ice Cream (local), homemade peach cobbler, fruit cobbler, Kahlua chocolate chip brownie, and "Mom's" homemade bread pudding. Ordinarily, I'm a chocolate kind of gal, but who can pass up homemade bread pudding? You can get it à la mode, but I like mine with a nice sauce, and this one had it in spades.  
If you're not yet convinced that this is the place you need to visit, consider the fact that they also have a family-style menu where you can get three, five, or six different types of meat, bulk meats to go, and a BBQ emergency kit containing brisket, sausage, turkey, chicken, coleslaw, potato salad, beans, and house bread. 
There are also gluten-free, vegan, vegetarian, and pescatarian options, most of which can be had to go for an extra dollar. They even have a red blend wine called "Caged" by country music star Zac Brown, if you desire it. 
When all was said and done, I ended up taking at least two-thirds of my meal home with me and finishing it over the next two days, and it was still delicious. It was seriously a lot of food. You should go The County Line, whether you take your friends, your family, or the guy on the street. They'll all be glad you did, and your wallet will sing your praises.