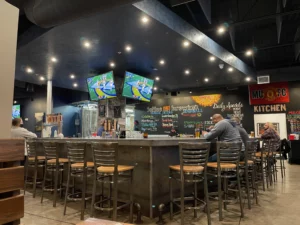 Not wanting to watch the playoffs at home or cook on a Sunday afternoon, we had to search for somewhere to watch the Super Bowl. It turned out to be no small feat, so we decided to try out a relatively new restaurant on the Albuquerque scene: Toltec Brewing. 
"To be worthy and excel in all things" is the mantra that describes Toltec Brewing. While it's an honorable phrase, I needed to see if it was actually apropos. It definitely was. 
Upon entering, you see their house brews board written with chalk, which I am sure is so they can quickly swap them out as needed. Another excellent addition to the place's ambiance is the inclusion of their brewing tanks right inside the restaurant.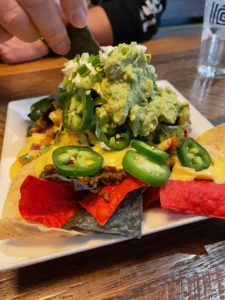 We started with a brew called Paycheck Pils from their house brews board. It was phenomenal! It wasn't too hoppy for a pilsner and was really light. It was a lovely, easy-drinking brew that doesn't grab you by the throat. Instead, it made me beg it to let go. From there, we progressed to nachos. Most folks would politely stifle a yawn at nachos, but these were thoroughly loaded with red and blue chips, ground beef, beans, gooey cheese, fresh guacamole, whipped sour cream, chopped green onions, and sliced fresh jalapeños.  
Around halftime, we decided to finally order our entrée for the second half of the game. We shared a 'Shroom and Bleu burger and a Chicken Philly Sandwich, both of which were bursting with flavor and the perfect fare for watching a football game.  
The 'Shroom and Bleu burger included a brioche bun and a grass-fed beef patty topped with bleu cheese, mushrooms, bacon, tomato, and onions, as well as a side of seasoned fries. Sharing that bit of goodness was no problem at all.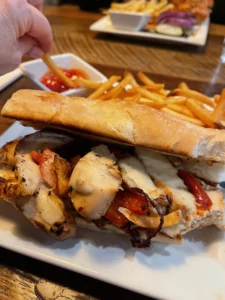 When the Chicken Philly Sandwich arrived, its toasted baguette was filled with chicken breast, melted provolone, sautéed green peppers, onions, mushrooms, and chipotle mayo, and it was served with seasoned fries. Pure bliss. 
There are also other options for fries, such as regular, sweet potato, and pork belly fries, which are beer-battered seasoned fries topped with pork belly, chipotle aioli, and melted mozzarella. Still, we decided to stick with the bit of perfection we'd chosen in the first place. 
Even though there weren't many people watching the game, the staff was highly attentive and helpful with their suggestions. The ambiance was upbeat and happy, and they cheered along with the customers when one or the other team scored a touchdown. 
When the game was at the last of its plays, we finally ordered dessert: the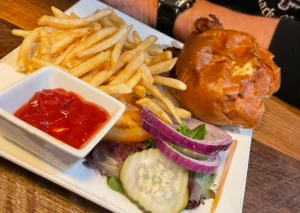 Chocolate and Vanilla. It was a brownie topped with vanilla ice cream. The brownie was warm, moist, and chewy, while the vanilla ice cream was one of the most flavorful vanillas I've ever had. It even surpassed my love for Häagen-Dazs, if that's even possible. When the ice cream melted over the brownie, we were scooping it up and dreaming of licking the bowl. We probably would have if we hadn't been in public. 
So, to say that Toltec Brewing is "worthy and excels in all things" is a serious understatement. Even though our team lost, we thoroughly enjoyed Toltec Brewing and would return in a heartbeat for the opportunity to enjoy a similar experience.