Authentic Mexican street
food at the Little Sombrero in St. Augustine.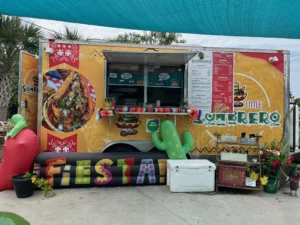 Sometimes, it takes a village to make a food truck truly successful. No one knows this better than Kelly Schneck, who owns The Little Sombrero with her husband Brendan. The menu was created with the help of friends, some of whom gave suggestions for menu items and others who taught Kelly how to cook certain dishes.  
"It was a collaboration inspired by what people wanted to see – the public weighed in," she explained. "Friends who were born and raised in Mexico shared family recipes and taught us to focus on the quality of the ingredients, not the quantity sold. We told them if they'd teach us how to do it right, we'd do it." 
The Little Sombrero sold birria tacos – tender, meaty tacos served with consommé for dipping – long before they became popular in North Florida thanks to suggestions from Kelly's circle of support. And Southern California-style Mexican dishes like fish and shrimp tacos made their way onto the menu by popular demand. Under the "So Cal" section of the menu you'll find my favorite: Avocado tacos. I know, it sounds weird. Creamy slices of avocado are deep fried in a beer batter and tucked into a warm tortilla with purple cabbage, queso fresca and their secret Baja sauce. The result is simultaneously creamy, crunchy, salty, zippy, and surprisingly crave-worthy. I think you have to try one to understand. The smoked chicken tacos are heavy on the sliced jalapenos, offering a mouthful of heat. Get one of each, as the flavors balance each other out nicely. Burritos and quesadillas round out the menu at The Little Sombrero.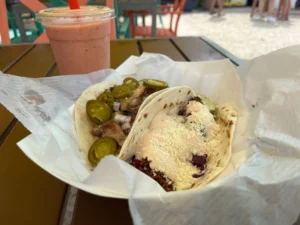 While I was waiting for my tacos, I popped next door to buy a smoothie from Big Island Bowls, the neighboring food truck. The Passionflower smoothie was tart from passion fruit and sweet from bananas and strawberries. My mouth is watering right now just thinking about the delicious combination. The menu also features healthy acai bowls with tropical fruit, poke bowls and colorful Buddha Bowls with veggies and toppings. What I didn't know at the time was that this truck is also owned by Kelly and Brendan. The menu was inspired by the time they spent living in Hawaii and working at a wilderness therapy program.  
As a matter of fact, this pioneering couple is responsible for developing the entire Village Garden food truck park where these two mobile restaurants reside. The pod was the first one in the area, built out of a desire to have a stable place to set up for business each day.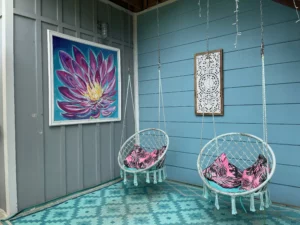 "It was so hard to be on the move every day," Kelly said of the early days when they had to look for a parking spot every day. "It was a constant struggle. The codes (for food trucks) in St. Augustine were so outdated they only pertained to hot dog carts," she explained. "We couldn't find a location, so we built the park." The huge undertaking involved writing a pilot program of codes, lobbying the city, buying the property, and building it out. "It was a long labor of love," Kelly said. 
From the lush flowering plants and wicker swings to the yard games and colorful outdoor seating, every detail of the park was built with intention. Kelly wanted to come to work at a place that felt like home. And customers who thank her for helping them create happy memories made it all worth it. "The St. Augustine community is close and strong. Strangers came to voice their support. No one achieves anything alone," she said. "It takes a village."