Visiting the people and places that create community in Raleigh, North Carolina. 
Have you ever traveled somewhere new, hit all the tourist hot spots, and left feeling kind of empty? I'm glad I saw the Mona Lisa in Paris and the canals in Venice, but they didn't change my life or probably anyone else's for that matter.  
I decided to take a different approach on a trip to Raleigh in April. What's special about this place you might not find on a "Top Ten" list? I had a hunch that it might be the people themselves, not just the places.
While this is a unique way to travel, I am not the only one with a desire to connect with the local community and support the small, independent places that make up the city. A company doing just that is People First Tourism "is a social venture born out of sustainable tourism research from NC State University." Based out of Raleigh, North Carolina, they "seek a world where travelers develop deep connections with their hosts, are transformed by the genuine local cultures they experience, and improve the lives of the people they visit". This vision is exactly how I aimed to travel on my recent trip to Raleigh. Here's what I found, all in the easily walkable downtown.  
Good Eats in Raleigh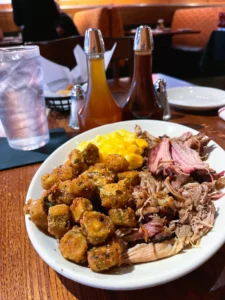 When you think of regional favorites in North Carolina cuisine, barbecue comes to mind. Whole roasted hog with peppery vinegar-based barbecue sauce, creamy mac n cheese, and cornbread are just a few of the hometown favorites, and I happily indulged at Clyde Cooper's Barbecue, The Pit, and a few others. 
But the experiences that stuck with me the most were the places committed to making a positive change in people's lives. A Place at the Table is a pay-what-you-can restaurant where diners can pay the suggested amount, pay what they can afford, or volunteer their time instead. All are welcome, and on my visit, the lunch rush included a city councilman, unhoused people, office workers, and a family with kids. 
"We're the intersection of many kinds of people. Some are food insecure, struggle with mental health or homelessness – it can get rowdy in here," said Executive Director Maggie Kane.  
Believing that food and community could bring people together, Kane launched this unique restaurant in 2018 that now serves 250-300 meals a day. About half the customers pay the suggested amount and others pay less or volunteer an hour of their time instead.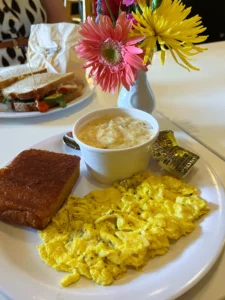 Friendly volunteers took my order and delivered my cheesy grits and cornbread and I wondered why every city doesn't have something like this. 
Carroll's Kitchen also believes in the transformational power of food. This downtown grab-and-go storefront helps women undergoing crises like domestic violence or homelessness gain employment. Their Restorative Employment Model connects women to community resources while they gain valuable skills in the kitchen, making fluffy kolache rolls, sandwiches and soups. That means that my warm raspberry cream cheese pastry elevated more than just my tastebuds.  
I love to try local coffee places, and 321 Coffee was less than a mile from my hotel. I stopped one morning at this shop that trains and employs people with intellectual disabilities. I chatted with Paul as he took my order and learned that in addition to being a barista, he roasts the beans used in the shop. Thanks to 321, Paul, who has Down's Syndrome, has a full-time job that he loves. I thought I was just buying an espresso, but it turns out I was creating work opportunities for a group filled with potential that often struggles finding employment.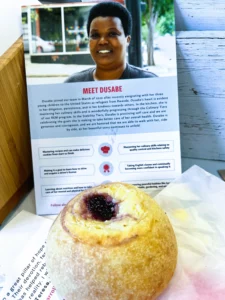 At Weaver Street Market, shoppers and employees can buy into ownership, funding projects that make food more accessible, provide a living wage and support local producers. As a visitor, you´ll appreciate the food bar serving hot breakfast, lunch, and dinner, healthy snacks and local beer. There´s a seating area on the upper level, or if you take your meal to go, you can borrow real utensils and return them later to reduce waste. When you make your purchase, you´ll be asked if you want to "round up," with the extra money going to neighborhood partners. Since 2015, Weaver Street Market shoppers have donated over $1.88 million to feed the hungry.  
Every good vacation should include chocolate. Videri Chocolate Factory sells bean-to-bar chocolate bars, bon bons and other treats. The factory doesn't use tree nuts, peanuts, soy, gluten or eggs, making it an allergy-friendly place to indulge.  
You can take a free, self-guided tour to learn more about the chocolate-making process by scanning QR codes to watch videos at various stops or sign up for a paid staff-guided tour (reservations required, $15 fee).  
Owner Sam Ratto is committed to ethical, sustainable chocolate, using organic, fair-trade ingredients. He buys only from sources who disclose how much each cocoa farmer is paid to help stop slave and child labor, a common practice in the industry. In addition to looking out for the farmers, Sam pays his staff a living wage, and donates a portion of profits each month to community nonprofits. Even the packaging he uses is sustainably produced. These details add up to making the world a sweeter place, one chocolate at a time. 
Insider Tip: It's easy to explore Raleigh by walking. There are also bikes and electric scooters for rent if you prefer to zip around town. 
Connecting with the Art Community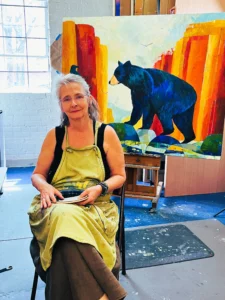 Finding activities to join is a great way to meet locals, something I try to do when I travel. Sometimes it's a walking tour, or maybe a cooking class. In downtown Raleigh, the artists at Artspace literally opened their studio doors and welcomed me in. This nonprofit visual arts center is home to over 30 artists who rent individual studio spaces to sculpt, paint, make jewelry, and meet with clients. If you see an artist with an open door, you're welcome to go in and visit. Many sell their art directly from this space, so you might even pick up a few souvenirs. There are also a few exhibit spaces to visit and ongoing classes. 
I got to talk with several artists while they were working, like Diana Malin who showed me the handmade paper she layered into her pieces. Michele Yellin shared the importance of community she experienced at Artspace. It felt like such a privilege to meet the artists at work, kind of like getting invited backstage at a concert. There's no charge to tour the studios, and I highly recommend stopping at Artspace on your visit to Raleigh. 
Happy Hour that Gives Back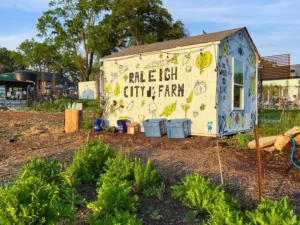 Sometimes you have to dig in deeper to find out what makes a place tick, so I put on my gardening gloves and headed to Raleigh City Farm's weekly Wine & Weeds event. I wanted to find out more about this nonprofit urban farm, and they offered a glass of wine in exchange for an hour of weeding. I like happy hour, so I thought, why not? 
Some volunteers were college students studying agricultural science; others were families wanting to show their kids where food comes from. I walked past the rows of broccoli and lettuce to the iris beds, weeding alongside Executive Director Lisa Grele Barrie. She explained that half of the produce is sold at the farmstand, and the other half is donated to community partners. Kale harvested from the farm today shows up tomorrow in a salad at A Place at The Table. There's a small mobile produce stand that goes to the Salvation Army every week, and tokens are given out to various nonprofits to distribute. They can be redeemed for $10 in fresh produce. 
Since 2011, Raleigh City Farm has been living out its mission to connect and nourish the community through regenerative agriculture. Access to affordable, healthy food has increased, community bonds have strengthened, and an inclusive, diverse group of farmers is being encouraged for the next generation. I'll drink to that.  
Shopping with a Purpose in Raleigh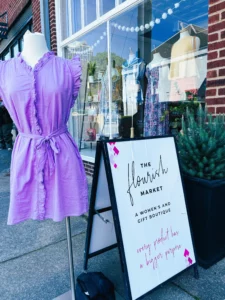 I was drawn to The Flourish Market by a sign outside that said, "every product has a bigger purpose." (And there was a cute little lavender dress on display that caught my eye too). The saleswoman explained that all the items drive positive change in some way, either by paying a living wage to artisans or supporting nonprofits around the world. And here I thought I had just stumbled into a trendy clothing and gift store.  
There are purses, bath products, candles, and mugs with affirmations. There's a great selection of jewelry, including the gold and pearl earrings I bought. I loved the design so much that I put them on before I left the store. Now, every time I wear them, I'll be reminded that my purchase helped rescue exploited women and gave them a new life making jewelry. The Flourish Market has an easy-to-navigate online store, so you can use your purchasing power for good even if you can't make it to Raleigh.
Designed for Joy, in the Warehouse District, provides a living wage for women in crisis. Beautifully colored leather bags, jewelry, wallets for men, and even chic leashes and collars for Fido are a few of the items the women create. Stop by to shop – you'll leave with a new look that brings hope for the future to worthy women. Check the website for shopping hours, special events, or to buy online.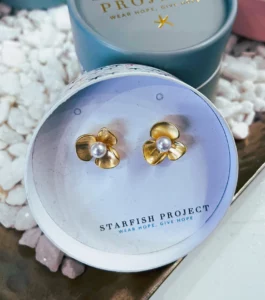 The Gathering Gallery is filled with quirky local products, like Appalachian spice blends, puzzles and earrings shaped like Lucky Charms. The shop employs adults with intellectual and developmental disabilities, and many products are made by companies that are fairtrade,  
Women-owned, LGTBQ+ owned, and eco-friendly. I felt good about buying a pen and a bar of cedar-scented soap as gifts to take home.  
Insider Tip: If you need a break from sightseeing, stop at one of over 200 parks in Raleigh. Nash Square Park's lush foliage offers lots of shade and benches to rest. Moore Square Park has more action, with a shady play area and ping pong table. Square Burger offers takeout burgers, sandwiches and shakes for an impromptu picnic. 
Staying Local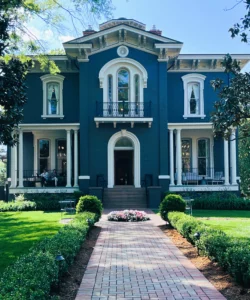 Why stay in a chain hotel when you visit Raleigh when you can spend the night in a historic Italianate-style mansion? Heights House Hotel is a stunning boutique property located on a hilltop overlooking the city. Built in 1858 as a private home, this National Historic Landmark is one of the few remaining pre-civil war homes in the city.  
Heights House had numerous owners over the years, including Boylan Heights Baptist Church. In 2018, Raleigh citizens Jeff and Sarah Shepherd acquired the property and spent three years restoring the building and crafting it into its current splendid state as a 9-room luxury hotel. There's so much beauty to discover, exploring the hotel is like going on a treasure hunt. Peek into the parlor to find the cocktail menu hidden in antique books. Follow the ornate staircase to the second level to view the original stained-glass cupola. From the crystal chandeliers and crown molding to the pocket doors and decorative brass doorknobs, the finishing touches transport guests back in time.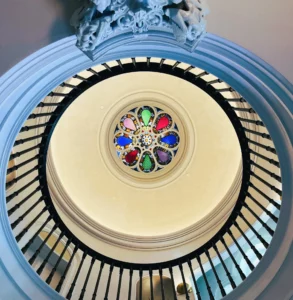 There's personality to the Heights House that comes from the love that the Shepherds put into the restoration. It feels like staying in a relative's house, maybe a rich uncle with exquisite taste. Returning in the evening after a long day of sightseeing is like coming home. The porch lights are on, and music drifts out the front door, welcoming me. A little bag of chocolates hung on my door, wishing me sweet dreams.  
You might think, "I'm on vacation. I don't want to pull weeds, wash dishes or worry about changing the world."  I get it. There are other ways to make an impact.  Ask your Uber driver where they like to eat and try someplace local. Ask a shop owner what you should see while you're in town. Instead of heading to Starbucks, try that coffee shop around the corner from your hotel. You never know, you might discover some cool places and end up changing someone's life in the process.