Transport yourself to the 1960s at the TWA Hotel in JFK Airport.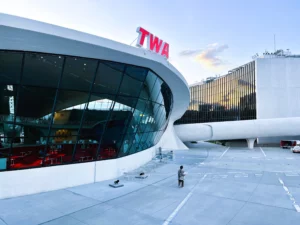 Before travelers even enter the TWA Hotel, just steps from Terminal 5 of John F. Kennedy International Airport and 12 miles from Manhattan, they're slowly transported to a time gone by. Parked in front of the hotel's entrance, a sky-blue VW Micro Bus and a navy blue 1962 Lincoln Continental, a nod to the year the TWA terminal opened, are a teaser of what's ahead. 
Passing through the glass doors of the Eero Saarinen-designed building is akin to entering a time warp (Saarinen also designed St. Louis' Gateway Arch and Washington, D.C.'s Dulles International Airport). While the former Trans World Airlines (TWA) terminal has been retrofitted to a modern-day hotel, it looks and feels very much like the 1960s down to the Vulcain clock and white penny tile floor.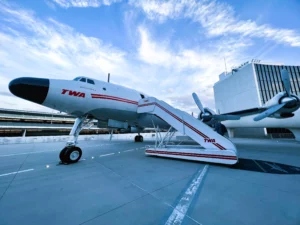 The TWA Hotel is part of a growing number of recycled resorts — hotels refashioned from structures that had former uses. These include Refinery Hotel, which was once a factory in New York City's Garment District, and Blue Moon Hotel, a former 19th-century tenement building in Manhattan's Lower East Side, and further afield, The Liberty Hotel in Boston that was once the Charles Street Jail, the McMenamins Kennedy School Hotel in Portland, Oregon that was once the John D. Kennedy Elementary School, and The LINE DC in Washington, D.C. that was a former church.  
What makes the TWA Hotel stand out from other recycled resorts is that it isn't simply occupying a former historic place. The hotel has sought to not only breathe new life into a once-storied space but also recreate the allure, excitement, and wonderment of air travel. It's a feast for the senses. 
From admiring the futuristic architecture and throwback touches to dining on food inspired by vintage TWA inflight menus and brought to the present day by Michelin-starred French Chef Jean-Georges Vongerichten at Paris Café to dialing 5 on the vintage payphones to hear a special message from TWA (it's the airline's catchy jingle with the familiar refrain "Up, up and away! How beautiful, how beautiful to fly!"), it is, indeed, a beautiful and very historically accurate trip like no other. 
The TWA Hotel isn't just a hotel; it's a destination, and, for many, it is the destination.
For visitors who don't have plans to take flight, the hotel serves as a popular destination to just wing it pre-departure. It's also the only on-airport hotel at JFK. 
Founded in 1930, Trans World Airways, was one of the biggest airlines in the U.S. For a period of time, the airline was owned by American business magnate Howard Hughes, and the iconic airline's transatlantic hub was at the TWA Flight Center at JFK (now the lobby of the TWA Hotel). The airline folded in 2001, and its TWA Flight Center was shuttered for years. 
The wing-shaped structure features two massive, sloped flight tube corridors that once led to the airport terminal but now connect to the JetBlue terminal and two new wings of the building built specifically for the TWA Hotel to house the 512 rooms: the Saarinen Wing and the Hughes Wing. The LEED Gold-certified building is on the National Register of Historic Places, and the long-anticipated hotel opened in 2019.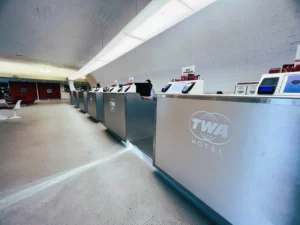 As quickly as the glass doors close behind guests, the flamboyance of the 1960s greets its newest arrivals. To the left, the once-familiar sight of metal check-in counters welcomes guests, this time for an on-ground adventure awash in TWA's signature Chili Pepper red hue.  
While the TWA Flight Center has been meticulously restored with nostalgic nods to one of the most famous decades in American history, it has also been punctuated with funky modern additions like a photo booth, food court, and Wi-Fi. 
Reminders of the groovy, far-out 1960s include The Sunken Lounge, a cocktail lounge where fans of The Beatles once waited in 1965, and the lounge's massive Italian-made Solari split-flap message board that provides a familiar, mechanical clack, clack, clack as its square flaps rotate to display flights of fancy to past destinations like Aden, Yemen, Bujumbura, Burundi, and Pointe Noire, Democratic Republic of the Congo.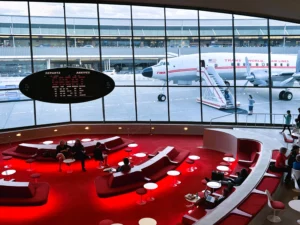 At 7 p.m. nightly, the board presents a "toast" to Tab, the one-calorie diet soda that was invented in 1962 and retired in 2020. The toast takes the form of the departure board spelling out "GREAT TASTE" in Tab's signature can colors of hot pink and white. The Sunken Lounge is populated with items paying homage to the carbonated canned beverage, like a hot pink four-foot Tab can and an oil painting of the famed fizzy drink.  
While bar-goers can't crack open a can of Tab, they can order cleverly-named $17 cocktails like the 22 Right (vodka, ginger beer, and lime juice), Flotation Device (light rum, mint syrup, lime juice, fresh mint, and club soda), named for one of the airport's main departure runways, and Control Tower Sour (Amaretto, lemon juice, orange juice, simple syrup, and Angostura bitters) along with shareable light bites like charcuterie and flatbreads. 
An identical menu is served upstairs at The Pool Bar, adjacent to the rooftop infinity pool that is open year-round. When we visited in late October, the pool was heated to a steamy 95 degrees, making for a refreshing swim on a sunny, 54-degree morning. The pool is the perfect place for watching airplanes take off and land from Runway 4 Left/22 Right and boasts views all the way to Jamaica Bay.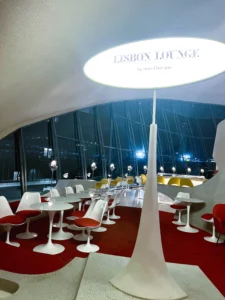 During a middle-of-the-night layover in late October, the hotel was buzzing with flocks of travelers eager to get a glimpse of the hotel. Some posed for selfies on the midcentury modern furnishings while a dozen or so lined up to grab a bite to eat in the Food Hall that features local favorites like hot dogs from Feltman's of Coney Island and soft serve from Mister Softee served at vintage check-in counters. Still, others camped out in quiet corners like the former first-class lounge where the Pope's Room is nestled (Pope John Paul II famously flew TWA, and this golden-domed room was his hideaway between flights). They snoozed against piles of luggage instead of paying upwards of $300 per night (the hotel also offers day rates for passengers seeking a restful respite on stopovers and layovers).  
Visitors don't need to be guests of the hotel in order to enjoy many of the hotel's amenities. They can dine at Paris Cafe, sip cocktails in The Sunken Lounge, or marvel at the museum exhibitions curated by the New York Historical Society, including a luggage tug and a recreation of Howard Hughes' desk complete with an old school globe, a typewriter, and a square glass ashtray.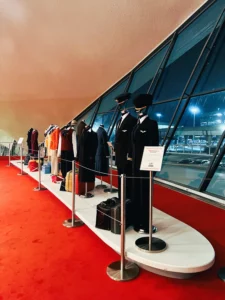 The expansive 2,367-piece collection, much of which was donated by former TWA employees and their families, includes 62 David Klein travel posters, inflight dining ware, and uniforms designed by Valentino Garavani, Ralph Lauren, and Stan Herman. Herman also designed plaid suits and color-blocked red and navy housekeeping uniforms for the hotel's staff. Each artifact, like a pack of gilded playing cards, is a glimpse into a bygone era when flying during aviation's "golden age" was an event. 
Non-guests can also step onto TWA's tarmac and board "Connie," a 1958 Lockheed Constellation plane with a checkered past. The propliner was replaced by the Boeing 707 in 1960 and flew cargo for TWA for a couple of years. She was auctioned for $150 in 1979, and "a year later, Airborne Enterprises restored and flew her to Anchorage, Seattle, and finally to Chandler, Arizona in 1981. There, Connie ventured into the weeds," according to the TWA Hotel website.  
The L-1649A propeller-driven plane parked at the hotel was "modified to airdrop marijuana, then got stuck in the mud with a damaged propeller at a remote landing field in Colombia. Outfitted with a new prop, she flew to San Pedro Sula, Honduras, where she was abandoned," according to the hotel's website and "Connie" exhibit at the hotel. Connie changed owners yet again, this time by the owner of Maine Coast Airways, and later she was bought at an auction by the charity Deutsche Lufthansa Berlin-Stiftun before becoming a cocktail lounge at the TWA Hotel in 2019.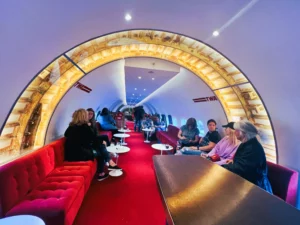 The plane has been refurbished with red and gold plaid plush seating for 75, murals by artist Mario Zamparelli, and a bar serving a limited selection of beverages from the hotel's other bar menus, along with packaged nibbles like olives, nuts, and chips. On a recent visit in April this year, we sipped a Mile High Margarita (Tequila, agave, and lime juice) while working out a crossword puzzle found in the seatback pocket, which is a replica of a puzzle that first appeared in a 1951 edition of Skyliner, TWA's inflight magazine. 
The hotel is a marvel through and through, from the space-age column-less interior to hotel amenities to small details evoking whimsy and wanderlust. The hotel's developers even commissioned a custom typeface, Flight Center Gothic, which is inspired by TWA's hand-drawn, modern-looking, and forward-leaning font.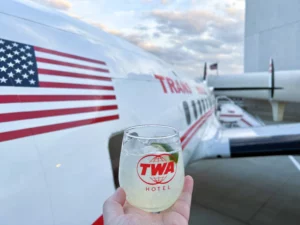 Around every corner is a nod to the nostalgic, such as a polka-dotted room dedicated to hosting life-size games of Twister and a teal monochromatic living room with a fireplace, shag rug, and a trunk filled with matching clothing to dress the part for perfectly posed Polaroids, and a gaze at the future like the world's biggest hotel gym. Open 24/7, the palatial, 10,000-square-foot futuristic fitness center includes a cycling studio with 14 Peloton bikes, a yoga studio, and locker rooms. 
No detail has been overlooked as the team behind the hotel, MCR and MORSE Development, sought to bring back the magic of travel. When the location scouts for 'The Marvelous Mrs. Maisel' saw the TWA Hotel in all its glory, they knew it would be a prime spot for shooting some of season five. If a critically acclaimed show set in the 1960s isn't a testament to how spot-on the team was in their design execution, I don't know what is. 
The guest rooms boast the world's second-thickest glass to ensure the planes are seen, but not heard, from the floor-to-ceiling windows that overlook the TWA Flight Center and the runways where 1,300 flights begin or end their journeys daily.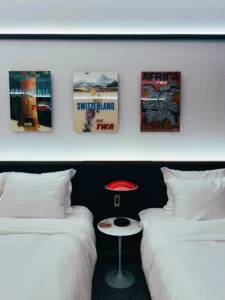 Each guest room is appointed with a retrofitted vintage Western Electric 500 rotary phone and classic Knoll womb chair. Rooms feature millwork crafted by Amish woodworkers who designed each in-room walnut martini bar and tambour wall. Take-home treats include a plastic pilot wings pin, TWA twin globe logo notepad, and red cylindrical graphite pencils with red erasers made by family-run Musgrave Pencil Company, which has been operating since 1916 in Shelbyville, Tennessee. 
Just as the airline industry has been continually evolving and innovating since the first commercial flight in 1914, the TWA Hotel changes through the seasons of the year. The airport hotel offers weekly fitness classes and activities like a summertime roller rink and a wintertime curling rink, and a rooftop poolside chalet to keep frequent flyers coming back for more. 
Guests who grow fond of the famed airline can stock up on sentimental souvenirs like enamel pins, replicas of swizzle sticks used on TWA's original flights, and TWA flight bags, a modern take on TWA's branded zippered carry-on tote bags that were once given out for free to first-class passengers on long-haul flights. These mementos are a perfect reminder of just how plane awesome this airport hotel truly is and how its everything-old-is-new-again concept has really taken flight.