Exploring LGBTQIA+ History and Community in Houston
Houston is home to the largest LGBTQIA+ community in Texas and one of the largest in the South. In fact, Houston scores fairly high on the LGBTQIA+ "friendliness scale" despite Texas being extremely conservative both politically and socially. But it wasn't always this way, and despite recent gains in acceptance, the community still struggles with prejudice every day.
However, there are those within this thriving, vibrant community that are helping people in the Houston area and Texas at large. The passion they share for the food and drinks they create is matched only by the love they have for the city and their communities. During Pride Month and throughout the year, many LGBTQIA+-owned and operated businesses across the Houston area are doing their part to give back.
The Growth of the LGBTQIA+ Community in Houston 
Although the label "LGBTQIA+" is a newer social construct, the individuals within these groups have existed throughout history in the overwhelming shadow of a dominant heterosexual society and, for those in Houston, the overwhelmingly conservative South.
Before 1970, Midtown Houston was the go-to place for people of the LGBTQIA+ community, with the most popular spot at the time being a Montrose 24-hour restaurant called Art Wren. Because of the gatherings at Art Wren, Montrose soon became synonymous with the LGBTQIA+ scene. Between the late 60s and 80s, in part due to political goings-on such as the Stonewall Riot in New York City, the AIDS movement, and the Gay Liberation Movement, the neighborhood began identifying strongly as LGBTQIA+, with 19% of Montrose residents identifying as such. Many coined Montrose the "gayborhood" of Texas.
Over time, the LGBTQIA+ community grew and flourished in Montrose; more LGBTQIA+ businesses opened, more people moved into the area, and the first openly lesbian mayor of Houston, Annise Parker, took office in 2006. She soon wrote and authorized the "Houston Equal Rights Ordinance," furthering Houston's reputation as a safe haven for the queer community. This ordinance focused on improving anti-discrimination based on gender and sexual identity in Houston in regard to housing and employment. This ordinance, unfortunately, was later overturned. Although Houston does have a thriving LGBTQIA+ community today, just like all marginalized communities throughout the world, it still faces the issue of discrimination.
Struggles and Challenges
LGBTQIA+ businesses aren't exempt from the struggles that all businesses face, and in addition to those challenges come a whole other set of struggles rooted in being an LGBTQIA+ business. That's why many business owners who identify as part of that community often have to consider if they should openly identify as an LGBTQIA+ business. Questions of how it will impact their business, what discrimination they and their staff will face, and if they will be able to stay afloat in Texas are all, sadly, very real questions to ponder. Hate crimes, like the murder of Paul Broussard in 1991, hate speech being sprayed on businesses, and assaults against trans individuals, continue to be a problem to this very day. It is a discouraging fact that LGBTQIA+ individuals are almost four times more likely to be victims of rape, sexual assault, and aggravated assault than non-LGBTQIA+ persons. 
In Houston, successful LGBTQIA+-owned businesses are regularly subjected to such discrimination.
The owner and pastry chef of Koffeteria, Vanarin Kuch, has received death threats and had objects thrown at the storefront since he opened in 2019. Why? Because of who he loves and the beliefs he voices.
Additionally, local institution Pearl Bar was recently denied insurance due to the fact they host drag shows from time to time. This is suspected to be due to Texas' proposed anti-LGBTQ+ legislation and the insurance company "not wanting to take the risk."
Hope for the Future
Yet despite the discrimination and other challenges, LGBTQIA+ businesses in Houston and surrounding areas continue to make strides. Owner of Pearl Bar, Julie Mabry, explained that she doesn't seek pity for what happened to her business. But rather speaks out about it to raise awareness in hopes that positive change can happen. These new laws and regulations are impacting not only her business but all LGBTQIA+-owned businesses across Texas. Likewise, Kuch has stated that activism and community support are integral to his business's ability to survive. Despite the setbacks and threats these businesses receive, they stay true to themselves and work to give support to their community. The list of the ways they help the community at large is neverending. Some examples of ways these businesses go above and beyond include, but are not limited to, offering a safe space for marginalized individuals to dine, donating a portion of their proceeds to local and global causes, and providing free food opportunities to those in need.
The sheer number of businesses spreading to other parts of Houston and Harris and Fort Bend Counties is growing substantially. And more businesses are "coming out" as proudly LGBTQIA+-owned and operated.
Additionally, studies and GLAAD surveys have shown that many consumers actively seek out LGBTQIA+ businesses or businesses that support the LGBTQIA+ community. This bodes well for the further growth of the LGBTQIA+ community in Houston and beyond. 
LGBTQIA+ Establishments Giving Back 
Through the struggles they face, many LGBTQIA+ businesses prioritize giving back to the community that has shown them more love than hate. Coming up with Pride-themed treats, meals, and drinks, keeps customers happy and eager to support.
Here are just a few of the great LGBTQIA+-owned bakeries, bars, and restaurants everyone living in and visiting Houston needs to try.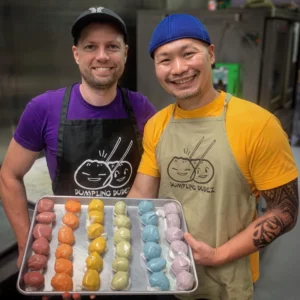 When partners Chih Lin and Michael Dorsey were feeling unfulfilled in their corporate jobs, they decided to take a major career pivot into the restaurant industry. And thus came the birth of Dumpling Dudez in 2019.
Opening its doors in East Downtown Houston, or Eado, this is a one-of-a-kind experience for those who visit. While they offer plenty of grab-and-go dumpling orders, they also provide unique experiences to their patrons. These experiences include edible art classes, cooking lessons, and partnering with local businesses for events. Lin and Dorsey are 'motivated by bringing people together,' and that is exactly what they convey in their business model and the work they do for their community.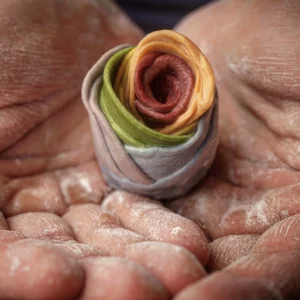 With a goal to use their voices to bring awareness and support their community, Dumpling Dudez advocates and raises money for various important causes, including, but not limited to, Black Lives Matter, Cancer Society, Food Bank, and Fight Against Human Trafficking. During Pride month, their fundraiser, "the Rainbow Dumpling Making Extravaganza", is offering 50% of net proceeds to the Houston LGBT Chamber and the Montrose Center's Hatch Youth.
Known for its inviting atmosphere and great food and drinks, Urban Eats has quickly become a popular spot in Houston. Owners, founders, and partners Levi Rollins and Eric Munoz have an open-door policy at their restaurant— everyone from any and all walks of life is welcome at Urban Eats.
During Pride month, the restaurant is offering a special pride cocktail, with a portion of each sale benefiting The Montrose Center, a community and social services center for LGBTQIA+ people of all ages in Houston. This money is going to vital things like life counseling, HIV group therapy, drug and substance abuse recovery coaching, and more. Additionally, as part of his recovery journey, the two partners have raised funds and awareness for additional causes, such as the Multiple Myeloma Research Foundation, which includes raising money for new treatments, clinical research, data-driven research, and more. A goal of $5,000 was implemented, with a portion of every sale of a special cocktail made with locally sourced ingredients going towards their goal.
A staple in the Houston food scene for more than 17 years, owner Michael Savino and his team create delightful cookies with innovative flavors. After leaving New York and becoming a pastry chef, Savino noticed that Houston lacked the business he was looking to develop: a bakery selling gourmet, handmade cookies with all-natural ingredients.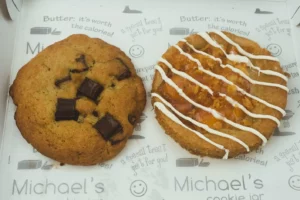 Originally an online storefront out of his friend's kitchen, he took the leap and opened its brick-and-mortar. With a physical store, he now had a way to showcase other local vendors. So when you go to Michael's Cookie Jar, you will notice the plethora of support he offers to local businesses, like Fat Cat Creamery and Katz Coffee. By doing this, he gives a boost to these other local businesses.
In partnership with Pride month, Michael's released limited edition Pride-themed cookies. If you purchase an Inclusivity Pride Heart Cookie, they will donate $.50 from each sale to Hatch Youth at the Montrose Center. Additionally, he and his team have participated in local events such as Houston's Taste of the Nation, with proceeds going to No Kid Hungry, an organization that helps work towards ending childhood hunger in America. With a motto like "Share the love" and its dedication to showcasing small businesses, it's no wonder Michael's Cookie Jar has become a popular go-to for delicious gourmet treats in the Houston area. 
Check out our review of Michael's Cookie Jar here! 
Buddy's, voted the Best Gay Bar in Houston, is a place where 'everybuddy' is welcome. Owned by Christopher Barry, this popular spot is proud to be an LGBTQIA+ inclusive safe space. They offer 'events as diverse as Houston' with inclusive themed nights that showcase local drag queens and DJs with fun trivia and karaoke for all. Known for having some of Texas' best bartenders, servers, and DJs, you know you are in for a good time when stopping by Buddy's. 
Their commitment to the community runs deep. And they get involved in any way they can, never afraid to make a political statement to stand up for what is right. They are the only LGBTQIA+ bar to serve as a voting location. Their themed nights serve a greater purpose as they use this as an opportunity to raise money for important causes, like the Montrose Center and LGBTQ+ affinity group of Combined Arms. During Pride month, they are running a weekend-long party in celebration of the queer community. 
Pearl Bar, one of 27 lesbian bars in the country and the only remaining in one in Houston, has become a staple within the LGBTQIA+ community. Opening its doors in 2013 by Julie Mabry, this bar has remained 'a beloved and essential space for Houston's LGBTQ+ community, providing a place for people to come together, celebrate, and be themselves.'
Mabry's vision to create a safe space for people to freely be themselves without fearing for their safety is at the forefront of Pearl Bars mission. She stated that there needs to be 'more safe spaces across the country' for the members of the LGBTQIA+ community, especially in areas that are not welcoming to those in the queer community. For Houstontonians, that place is Pearl Bar. 
Pearl Bar hosts a variety of events which often feature local DJs, drag queens, and spotlight various LGBTQIA+ causes. They paired up with Houston Dash, the NWSL team, for their yearly Pride Night in 2022, were a part of the Lesbian Bar Project, a fundraising campaign and documentary launched in 2020, were one of 18 lesbian bars selected to receive a $50,000 stimulus check during the pandemic from Hinge and received funding from the Human Rights Campaign for their "Queer to Stay: An LGBTQ+ Business Preservation Initiative".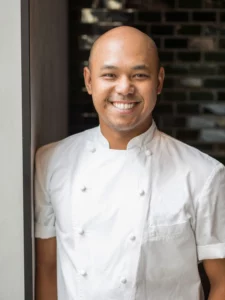 First-generation Cambodian-American pastry chef Vanarin Kuch and his husband opened Koffeteria in East Downtown Houston, or Eado, in 2019. Paraphrased from their website, Koffeteria is an upscale bakery that showcases beautiful mid-century furniture in an industrial setting. It has become a place for visitors to enjoy dessert in style. The food is often as whimsical as it is ambitious but always brings bold flavors into balance. The menu changes often to incorporate seasonal ingredients and showcase the diverse flavors of Houston. His claim to fame pastry? The Flamin' Hot Cheeto croissant. So, it is safe to say things get a little wild in the Koffeteria kitchen, but in the best way possible!
His work prior to opening Koffeteria is worth mentioning. After graduating from culinary school, Kuch found his way to Houston's Tiny Boxwoods, where he was a pastry chef for three years. He then moved to New York and worked at top establishments like Boulud Sud, and Gotham Bar and Grill. After making a name for himself, he appeared on Top Chef: Just Desserts in 2011 and Chopped in 2016. Born and raised in Houston, Kuch found his way back home and opened Koffeteria.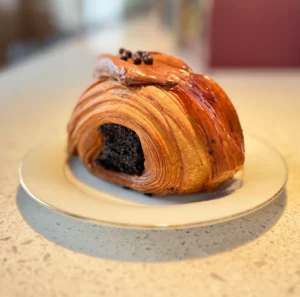 Kuch's love for Houston and his passion for the community is why he actively pursues opportunities to help those around him. During Thanksgiving, his team handed out free meals to those who were without. During the incredibly rough winter storm of 2021 that rocked Houston to its core, they helped feed their neighbors who were without power for days on end. He also makes a point to support important causes like Black Lives Matter, the Trevor Project, Jane's Due Process, which helps young people in Texas navigate parental consent laws and confidentially access abortion and birth control, and Restoring Justice, which helps marginalized individuals with legal support, bail assistance, social services, and more. Never afraid to take a political stance to stand up for what is right is what Kuch, and Koffeteria, are all about.  
Celebrate Pride month at Koffeteria by purchasing a Being Gay is Funfetti, a butter croissant layered with sprinkles and filled with gay. 
—
Although supporting LGBTQIA+-owned businesses is a must during Pride month, it's important to remember to promote these local businesses year-round. All of these establishments have something special to offer their patrons and do so in a way that reflects the creative and diverse city that Houston is. Support local, support LGBTQIA+-owned, and support worthy causes, all in one visit.