Anomaly's pop-up fine dining experience is quite an anomaly in the best way possible.
This warehouse-turned-pop-up restaurant in the Dogpatch neighborhood of San Francisco is unassuming from the exterior. In fact, we walked right past Anomaly and had to turn around since there are no visible signs from the sidewalk. Reservations need to be made a couple of weeks in advance, and we went on a Friday night for a $99 tasting menu experience. Speakeasy? Hole-in-the-wall? Perhaps, but not precisely.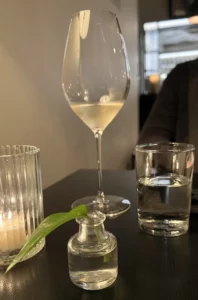 We were greeted promptly and each served a glass of sparkling wine as soon as we walked in. Being a picky guest, I requested a different table than the one they had assigned us, which they kindly accommodated by reseating us to a tucked-away corner of the space with a floor lamp and what appeared to be a high-end air purifier next to us. The interior is a rather barren modern industrial style featuring an exposed concrete ceiling, columns, and pipes, as well as a mix of brick walls, wooden flooring, and an earth-toned color palette throughout.  
Our table was elegantly decorated with a candle and a single pothos leaf, which one might think is underwhelming, but I actually thought it captured Anomaly's simplicity perfectly in a nutshell. Service was fine, but not amazing; there were a few awkward interactions and a lack of eye contact, which, to be honest, fell short of our high expectations for this caliber of a dining experience. However, it didn't ruin our experience by any means.
Our first appetizer was a thin bite-sized oyster chip with bacon emulsion, which successfully tickled my tongue just enough to make me want more, along with some sips of red wine we decided to pair with our dinner.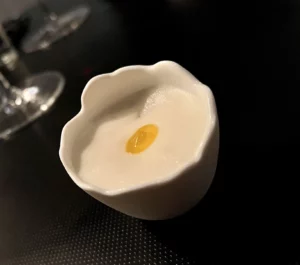 As soon as we finished our oyster chips, our second appetizer arrived: an egg-looking soup on a half-cracked, egg-shaped bowl. They described it as an egg yolk jam with dashi potato and puffed rice — quite elevated compared to my usual home-cooked, over-easy eggs! It was as light as a feather, yet so rich with textures thanks to the crispy rice hidden at the bottom of the bowl. 
The third appetizer was one of my two favorite dishes of the night. We were served carrot soup in a glass mug seconds before the chef personally came over and sprinkled what looked like snow to create a white, smokey explosion similar to when dry ice is dropped into water. Such an Instagrammable, theatrical moment! This "snow" was actually a sumac crème fraîche. With the addition of a couple of brown butter croutons, the soup was a pleasant burst of umami in my mouth as well as buttery, creamy, and richly textured.  
Next came our first main course of the night. It was a beet salad with tarragon, blood orange, and nasturtium (a type of flower) creme, which was gorgeously plated on a large, rock-textured bowl. The combination of earthy flavors was new and foreign to me. I was blown away by how each of the ingredients was processed.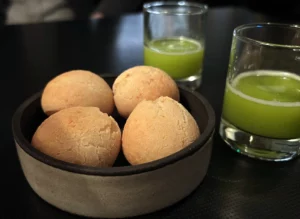 Our second main course was Pao de Queijo, a Brazilian cheese bread paired with some kind of green sweet juice on the side. I found it to be quite delightful and a fun break from the other fancy food on the menu. Because it took longer to chew these puffs, we were able to chat for a bit rather than just squealing marvelously at the food and swallowing right away, which I appreciated. 
Our third main course was my least favorite of the night, despite that it looked amazing on the plate, full of textures and interesting flavors. It was a celery root with crispy cabbage, goat cheese, truffle, and apple. Each of the ingredients was creatively processed and stood on their own, but I felt it lacked some depth of flavor profiles that I was hoping for in a third main dish.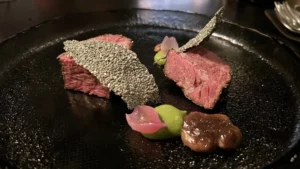 The final main course was the highlight of the night: a few pieces of 72-hour American wagyu short rib with peanut pesto, pickled red onion, and scallion chia chips. These ribs melted in my mouth and were superbly seasoned. The pickled red onion was the hero's sidekick of the night, providing an extra layer of flavor that tied together the remaining elements on the plate. It was a symphony in my mouth that I didn't want to end.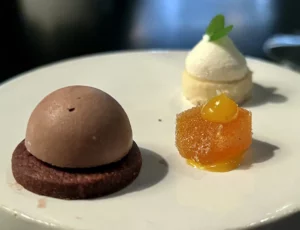 To cap the night, we were served two plates of desserts. The first dessert was a buttery cake with apple, cream cheese ice cream, and smoked milk jam. I loved that it wasn't overly sweet altogether,  and how each element balanced one another's textures while not getting lost in the mix. The smoked milk jam and cream cheese ice cream blended perfectly. Our other dessert of the night included three bite-sized delicacies: a peach basil pâte de fruit, a mint chocolate ice cream sandwich, and a shortbread. It was simple, which I thought was the icing on the cake as we savored what a great dining experience Anomaly was.