Bathhouse bliss and bites in the heart of Williamsburg.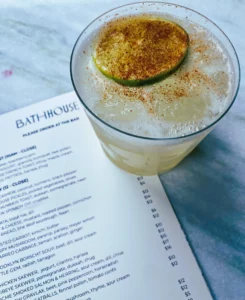 A boutique bathhouse seems an unlikely place to have an exceptional meal, but the restaurant at BATHHOUSE in Brooklyn's hip Williamsburg neighborhood is a stellar stop, worthy of a breakfast, dinner, or drink whether you're soaking in their tubs or not.
Set in a converted soda bottle production factory, the adults-only BATHHOUSE is an indoor oasis founded by Jason Goodman and Travis Talmadge that offers a trio of thermal pools, two saunas, an aromatherapy steam room, a hammam, and a menu of spa services, including scrubs, facials, baths, and massages, as well as an excellent restaurant for pre- and post-plunge bites.
Open to BATHHOUSE guests and non-guests, the 40-seat restaurant offers breakfast all day plus more substantial fare from noon onward. The laidback restaurant offers cozy, casual indoor seating at marble-topped tables and comfortable outdoor seating reminiscent of a homey sunroom. It's not uncommon to see diners dressed in robes alongside guests in street attire noshing on the globetrotting menu of light bites.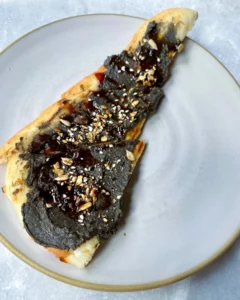 The menu is meant to complement the bathhouse experience by avoiding dishes with processed sugar and ingredients that massively spike insulin, but it is far from typical spa fare. Breakfast includes comfort foods like a biscuit with butter and blackberry jam and a more adventurous green egg frittata with harissa and zhug (a Yemenite hot sauce).
All-day options, which are all easily shareable, include porchetta meatballs with fennel pollen and tomato confit, ACME smoked salmon and herring with sour cream, dill, and chive, and roasted carrot with kimchi and butter. Desserts include a rich maple chocolate tart with maple sugar and cream, and an indulgent warm chocolate chip and nib cookie, which can be served à la mode.
Diners order at the counter and then select their own seats. During our visit, we sampled one of the organic cold pressed juices called the Tropical (orange, pineapple, mango, apple, and acerola cherry) and the Tropical Sauna cocktail (mezcal, chili, lime, orange, and spicy salt) along with two small plates: black hummus toast with dukkah, pomegranate, and naan and Brooklyn borscht soup with beet, dill, and sour cream.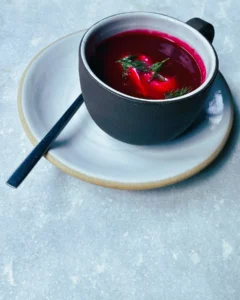 The borscht was a standout — far better than any borscht we ate in Russia. You should definitely save room for dessert. We chose the light and satisfying honey butter pear with pumpkin seed and crème fraîche.
The service was efficient and dishes came in quick succession. Our only regret was not having enough people to order everything on the menu. Each dish was simple, outstanding, and satisfying. We consoled ourselves with another plunge in the thermal spa, followed by a complimentary sweaty sauna ritual known as aufguss. An Aufgussmeister leads this sauna session in which snowballs are infused with essential oils and placed on the sauna's hot stones. The fragrant air is then circulated by rhythmical towel movements while mood-setting music plays. The soothing sauna and thermal spas were the ultimate after-lunch treat that will have you coming back for a second (and third) helping.