Bernal Star is the perfect homey go-to spot for intimate mid-afternoon snacks and drinks during its happy hours.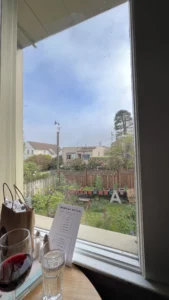 Bernal Star is one of those local mom-and-pop restaurants that only people living in the neighborhood would know about. Most people would just walk past it without giving it a second glance. I stumbled upon it during its happy hours (4-6 p.m.) after a productive afternoon working from a coffee shop nearby. There is a small corridor to the side of the building which leads to the outdoor patio of the dining area, which was neatly decorated and carefully thought out. Right behind it was the quaint indoor dining room with a bar and a big window looking into their backyard, which also perfectly frames one of the tables.
The space was airy, bright, and crisp. This semi-outdoor indoor space was protected from the wind, yet gorgeously sunlit and well ventilated. We sat at what I would say is the most-prized table in the whole dining room, looking outside to the backyard with some homegrown herbs and a few rustic chairs. It felt as if we were dining in a friend's dining room — intimate, cozy, and warm.
Our server was very attentive and friendly. She asked how our day was and made sure we knew what they have on their happy hour menu. We started with a glass of red wine for each of us while enjoying the quietness of the space and a view out the window to their little backyard.
Being so warm, comfortable, and content, it felt like we were sitting at our own home. Conversations flowed easily and our server was not overly attentive so we didn't feel interrupted.
Not long after, our plate of perfectly crispy calamari came over. It was fresh and ideally seasoned with a lemon wedge and tartar sauce on the side. The portion was quite generous for only $8. If I were to go back to Bernal Star, I'd definitely order the calamari again. About a minute into our calamari indulgence, the Brussels sprouts we had ordered came. It was not overcooked, which is something that would turn me off immediately when it comes to these versatile vegetables. I could see the charred crispy bits and edges of them, and they were beautifully glazed. Between the combination of the sweet, sour, and salty flavors and their naturally retained crunchiness, the Brussels sprouts were flawless.
We spent about one and a half hours in there, and by the time we were leaving, this homey dining room was filled. If you are looking for a comfortable dining experience, to talk more intimately with your coworkers without needing to scream, and decent food throughout the entire menu, I would highly recommend leaving work a little earlier than usual and making your way to Bernal Star during its happy hours.