Urban Bowls is serving up poke bowls, urban bites, and out-of-this-world boba!
One of my favorite go-to meals is a poke bowl. Poke is diced, raw, marinated fish that is served with rice and a variety of different vegetable toppings and sauces. I never feel too bloated after eating one, and I actually feel refreshed and healthy after eating one packed with fresh ingredients. Urban Bowls is a family-owned Hawaiian restaurant near San Francisco's Civic Center that offers poke bowls and boba drinks! Their interior is filled with bright blue and pink tables and accents, and their exterior has a colorful painting perfect for the background for a snap of your poke bowl.
From Urban Bowls, we ordered the California Lovin' Bowl, Super Keto Power Bowl, and Nacho Poke for food, as well as taro milk tea and peach passion fruit green tea for drinks. I was so excited to try a poke place that offers both a wide selection of boba drinks and poke bowls. Urban Bowls even has a "Build Your Own Poke Bowl" option if you're in the mood to customize.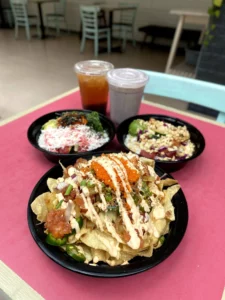 California Lovin' included white rice, tuna, cucumbers, scallions, toasted sesame, imitation crab meat, avocado, seaweed salad, masago, and their urban sauce. This was my favorite bowl out of the two, as it had more flavor from the extra toppings. The seaweed salad and tuna was the star of this bowl; the tuna was super fresh, while the seaweed salad was perfectly crunchy and refreshing. The other bowl that we tried was the Super Keto Bowl, which had white rice, tuna, salmon, cucumber, fresh ginger, purple cabbage, avocado, macadamia nuts, sesame, and wasabi shoyu sauce. This bowl was definitely a bit healthier, but I felt the toppings tasted a bit plain. I will certainly add some extra toppings or sauces next time, such as nori or the seaweed salad for that umami taste.
The Nacho Poke was hands down the best dish we tried. They were served on incredibly crunchy wonton chips; however, you must eat these immediately before the chips become soggy from the toppings. We tried to keep it pretty simple and added tuna, jalapeños, scallions, and their kickin's spicy mayo as toppings. The portions for these nachos were huge, and we ate them within minutes.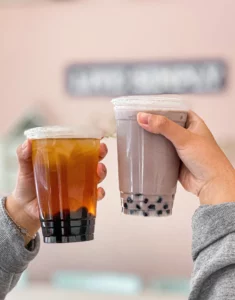 I didn't expect a poke restaurant to have the best boba, but Urban Bowl's drinks are actually amazing! The taro milk tea was a beautiful purple color and it was supremely creamy. The taro flavor was strong and very sweet. Their peach passion fruit green tea with boba was truly refreshing; the peach flavor blends so well with the passion fruit green tea. I wish I added lychee jelly to this one to make it even fruitier! They also have smoothies and other coffee and tea options that you can order with almond milk.
Urban Bowls is such a great option for a quick, to-go meal. If you're craving a healthy and filling meal packed with protein, antioxidants, and heart-healthy fats, Urban Bowls is the way to go! I highly recommend building your own poke bowl and trying their Poke Nachos… you won't be disappointed with those wonton chips!