Casa Barajas is home to simple, clean, fresh Mexican cuisine.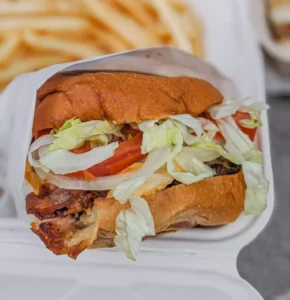 One of my favorite cuisines is Mexican. I love all the blends and variations of meats, cheeses, spices, and flavors that are incorporated into classic dishes, and I'm always craving that fun and vibrant experience that eating Mexican food provides. Casa Barajas is a Mexican restaurant located across San Francisco's Golden Gate Park, and they also have a second location in Daly City.
Casa Barajas's interior has a classic bar-restaurant ambiance, but since we went in the early afternoon, it wasn't too busy. They are sectioned off to the left side when entering, as they are adjacent to Chug Pub. Their menu has all the essential Mexican dishes, from burritos and classic tacos to tortas and churros, so I decided to order a feast for my family and me!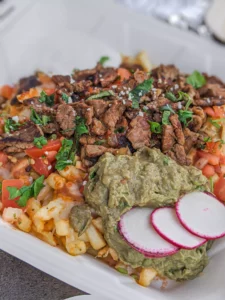 I tried to order something from each section of their menu in order to get a full taste of their offerings. We tried their classic tacos, one with steak and one with carnitas, as well as a shrimp taco that the cashier recommended. We got their Casa Burger, which I knew I had to try as I've never tried burgers from a Mexican restaurant before. I was craving a burrito, so I ordered their Super Burrito with carnitas and pinto beans. We also ordered a garlic shrimp and onion quesadilla, which piqued our interest because we had never had that combination before. Finally, we got their Asada fries as well as some churro beignets with chocolate dipping sauces. The food was all served with sides of fresh, warm, and crispy tortilla chips and a variety of salsas.
Starting off with their tacos, we squeezed a generous amount of lime juice on top, which I found to have really enhanced the shrimp flavor of the shrimp taco. Topped with beautiful, green avocado and cilantro, the shrimp taco was packed with delicious flavors! Normally I don't order seafood tacos and would rather get red meat, but this shrimp taco changed my mind. You can't go wrong with their classic tacos too, which were both filled with juicy, aromatic meats. However, if you're looking for something lighter and refreshing, I recommend trying out the shrimp taco. I dipped the shrimp quesadilla into sour cream, guacamole, and pico de gallo; it was delicious and the shrimp was cooked perfectly. Although, I feel like a larger portion of cheese and pico de gallo couldn't have hurt.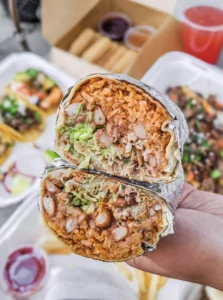 Their burrito was packed with beans, guacamole, rice, and carnitas. The cross-section showed magnificent layers. Compared to other burritos I've had, their burrito was longer and smaller in diameter, but it was still super filling. The fresh guacamole in it really brought all the ingredients together. The Casa Burger, which was topped with cheese, lettuce, and tomatoes, looked and tasted like any other burger. The meat was cooked well, and it came with a side of fries. I didn't find anything too special about the Casa Burger, but it was a very filling option.
Their Asada fries came in a huge portion and were covered with cheese, pico de gallo, guacamole, carne asada, sour cream, and refried beans. I appreciated that they put the pico de gallo a bit to the side because the liquid from the pico de gallo often makes the fries soggy. Because it wasn't directly on top, the fries remained perfectly crispy. Asada fries are always one of my favorite side meals because of the simplicity of each ingredient and how well the flavors all come together. The meat was seasoned beautifully and the cheese was fully melted, just the way I like it! I love that Casa Barajas topped it with cilantro and gorgeous pink sliced radish. This dish was definitely the prettiest.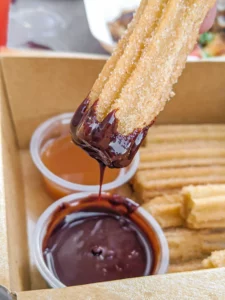 Their churro beignets were the perfect dessert to end this feast. They were actually pretty light, not too sweet, and the chocolate sauce was smooth and glossy. It also came with a light brown sauce, which I believe was caramel sauce. One box of these came with eight crispy churros. It reminded me of the churro con chocolate I had when I was in Spain.
Casa Barajas is one of my new go-to options for some quick Mexican food. They've got all my cravings on their menu, and I absolutely love that their portions are so generous. I like to keep leftovers and relive all of the flavors later in the day. If you're planning on visiting, I highly recommend the Asada fries and shrimp taco and then taking the food to go for a picnic at the nearby Golden Gate Park.