Did you hear Paris is in Palo Alto? Visit Bistro Maxine.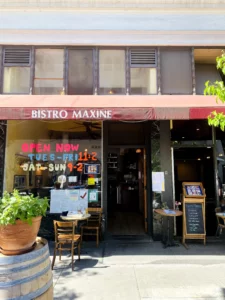 Downtown Palo Alto is one of my favorite downtown areas in the Bay Area. They have an amazing selection of restaurants for any meal of the day. Bistro Maxine is a Downtown Palo Alto restaurant that serves authentic French crepes and espresso drinks in a beautiful European ambiance inspired by French cafes. They have the loveliest flower arrangements on each of their French bistro-style tables and the friendliest staff.
Seeing that Bistro Maxine offers both savory and sweet foods on their menu, I wanted to try a bit of everything! I ordered their brioche French toast, which was topped with berries, house-made whipped cream, and maple syrup. Out of all dishes, I felt that the French toast was the prettiest because of the colorful berries. As for crepes, I ordered the Maxine crepe as well as their Special crepe. I also wanted to try their chicken pesto panini, which had feta cheese, spinach, tomato, and olive oil. For drinks, I tried their classic cafe latte with whipped cream and their iced mocha. Their coffee was strong, and a great addition to the meal that balanced out the sweetness from the French toast and crepes.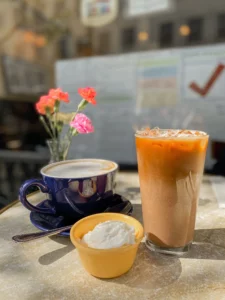 The brioche French toast came with a generous amount of raspberries, blackberries, and blueberries. The toast had the perfect thickness and crispy exterior, while the tartness from the berries balanced out the sweetness from the maple syrup. Bistro Maxine's house-made whipped cream was super fluffy and light, and it added a pleasant creaminess to both the toast and the latte. I loved the balance of flavors and proportions in this dish.
The Maxine crepe is a savory, healthy option that is stuffed with generous amounts of egg, spinach, mushroom, and Swiss cheese. As a cheese lover, I wish there was a sharper cheese in this crepe because the light nature of the Swiss cheese was a bit overpowered by the other ingredients. Their Special crepe was two chocolate crepes with strawberry cream cheese filling. I absolutely loved the combination of sweet chocolate and strawberry cream cheese. I have always preferred regular cream cheese in food, but the cream cheese in this crepe actually added a delicious, light strawberry flavor that reminded me of fresh strawberry yogurt. I think that both crepes are flawless breakfast choices.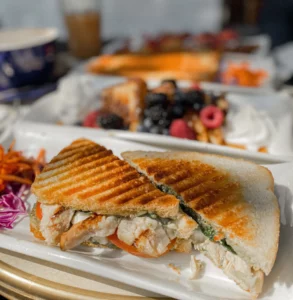 All of the ingredients in the chicken pesto panini held together so well. When I eat sandwiches, the ingredients tend to fall out as soon as I lift them, but this panini was perfectly toasted and pressed, with no fall-out! I loved the feta cheese combined with the generous amount of chicken. Pesto and chicken is just such a fantastic combination!
The whole ambiance of Bistro Maxine was so soothing and aesthetically pleasing. The natural lighting on the food made it look so picturesque — I almost didn't want to eat it! My favorites were the brioche French toast and the chicken pesto panini. The French toast was warm and soft on the inside, and the fresh berries added a pop of flavor and color. Next time I visit Bistro Maxine, I plan on trying the poulet à la crème savory crepe (chicken and mushroom in creme fraiche) since I've heard promising things about it from fellow foodies. This experience has made me eager to continue exploring the other cuisines and restaurants that Palo Alto's downtown area has to offer.