Gather, a perfect place to gather with friends and family for a meal.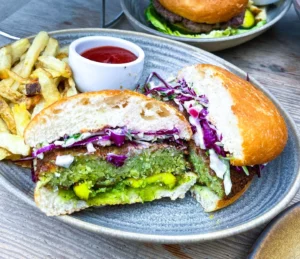 Gather Kitchen, Bar, and Market is located in the David Brower Center in Downtown Berkeley. Gather offers organic comfort food, craft cocktails, organic soft serve ice cream, local produce and wines, sustainable seafood, pizzas, and so much more. They have a ton of vegan and vegetarian options, using locally grown and raised ingredients. I visited here after doing some thrifting downtown. Walking in, I saw their open kitchen and beautifully crafted interior, which was built with natural, reclaimed materials. The interior was filled with greenery and beautiful plants, and I loved the nature and earth tones, which contributed to a calm and relaxing ambiance. My favorite part about my visit was their beautiful, green outdoor patio; it was one of the most beautiful outdoor seating areas I've ever dined at!  
I visited Gather during lunch and ordered their Marin Sun Farms Burger, falafel burger, Little Gem Escarole, and sausage pizza. I also tried their lemonade and an iced latte, both of which were so refreshing. After ordering at the counter inside, we took our number and sat at a table on the back patio. You can also dine inside, but I wanted to get more of that natural light.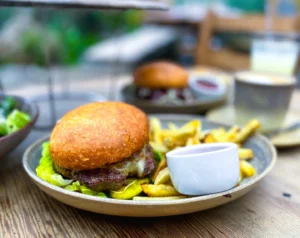 Everything arrived at our table quickly and around the same time — ideal for taking beautiful photos of the spread! I loved the refreshing Little Gem salad with Caesar dressing, croutons, and grana padano. The cheese was not overpowering, and the croutons were super crunchy; this salad acted as a nice palate cleanser between every other dish.  
The Marin Sun Farms Burger was a perfect medium rare burger on a toasted pain de mie bun with lettuce, caramelized onions, house b&b pickles, sharp white cheddar, and garlic-herb aioli, served with superbly fried house-cut fries. This dish was very filling, flavorful, and juicy! If you're looking for a classic burger, the Marin Sun Farms Burger is the one to order!  
The falafel burger was my favorite dish. It was made with fresh chickpea falafel, pickled zucchini, sesame-vegetable slaw, dill-cucumber yogurt, pumpkin seed pesto, and a pain de mie bun, accompanied with house-cut fries. Recently, I've been a huge fan of falafel, and theirs hits the spot! It's soft, crumbly, and flavorful. I loved the moisture that the dill cucumber yogurt adds to the falafel; it makes every bite melt into your mouth. 
The sausage pizza had a bright red tomato sauce, house aleppo-fennel sausage, and mozzarella-fontinella. If you like thin-crusted pizza, check out their various pizza options! The crust was crispy and thin, but the toppings did not seep through. This pizza was definitely on the lighter side because of how thin it was. Next time, I want to try their brunch pizza option with eggs! 
If you're looking to host or cater for an event, book with Gather! Everything there is really picturesque and aesthetic, and it's the perfect spot for nature lovers. I highly recommend checking this place out with a few friends after spending a day in Downtown Berkeley since they are open for brunch, lunch, and dinner!