An authentic Indian dinner in the heart of the Grove at Bombay Darbar.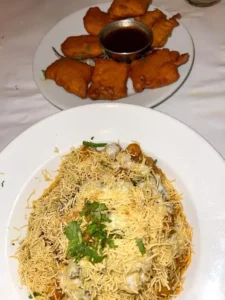 Surrounded by colorful, neon-framed mirrors and a long, modern bar with several Buddhist statues, the inside of Bombay Darbar is quite an interesting dining environment. Outside, there is a more simple scene, with a tented row of tables facing the street. Our waiter was kind and quick to take our order, which was two appetizers and two entrees: Paneer Pakora, Saag Paneer, Fish Goan Curry, Samosa Chaat, and sides of Basmati Rice (which are refilled when requested, for free!). 
Paneer Pakora was our first appetizer, which is described on Bombay Darbar's website as "home-made Indian cheese, battered in special seasoned gram flour and lightly fried." The saltiness of the cheese makes for a mouth-watering experience in addition to its lightly crispy texture- I highly recommend it as a start!
Our second appetizer was the Samosa Chaat, which, per their menu on their website, is described as  "deconstructed samosas served with chana masala chickpeas, fresh yogurt, mint and tamarind chutney." This dish was jam-packed with all listed ingredients, creating a mini mountain on our plate- a real bang for your buck! Texture wise, the entire dish is soft and creamy.
Our first main course was yet another paneer dish, Saag Paneer, which their website describes as "Traditional Indian cheese, simmered in a mixture of fresh spinach, onions, tomatoes, ginger, garlic, and Indian spices." Personally, I love to use this dish as a dip for the bread, which it pairs well with.
Lastly, our second entree was the Fish Goan Curry (which can be amended to Shrimp Goan Curry as a substitute), which is fish cooked in coconut milk with herbs. This was the best plate of the night and has more flavor than most dishes one will normally eat.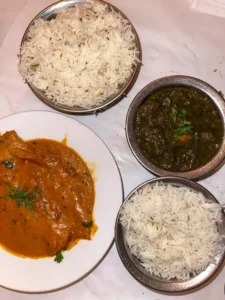 The fish is completely submerged in a bowl of the coconut milk sauce (which also pairs well with the bread) and does not require a knife as it cuts like butter. The sides of Basmati Rice were simple yet were a perfect addition to every single part of the meal. I have not personally been to many restaurants that will keep refilling sides for free. Kudos to Bombay Darbar for doing so!
With $7 cocktails during their Monday through Friday Happy Hour (4-6pm) and their Monday through Friday lunch specials (12-3pm), there is something for everyone at all times of the day. While I didn't order any cocktails, their Instagram (@bombaydarbar) shows beautifully hand-crafted drinks that I will be ordering next time, making sure to make it during happy hour!
Bombay Darbar is a must whether you live in Miami or are just visiting. They have conveniently opened a second location in famous Las Olas, Fort Lauderdale, for those who are a little North of Miami. Their Instagram also shows that this location will sometimes have live music for some family fun! I loved introducing this restaurant to my family, which began my dad's newfound love for Indian cuisine. So, if you're looking for an authentic Indian meal that outshines others with their flavor, Bombay Darbar is the place to visit!