The Garden House in South Beach is Latin food at its best.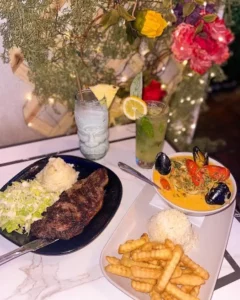 After finding convenient street parking practically at the door of The Garden House, I was immediately greeted by several employees standing outside. Choosing to sit inside or outside was quite the challenge. The outside seating area of The Garden House has a great garden theme with twinkling lights (in addition to great people watching), while inside has flowery walls, antique-themed, quirky paintings of dogs dressed as royalty, and a cool blue light coming from the bar. Choosing to sit inside The Garden House, I was helped by several waitresses, who, by the end of the night, I learned were all Argentinean (fun for me as I am, too!). 
I typically eat what is recommended by the staff of the place I am visiting, so as advised by my server, I ordered a pineapple mojito and piña colada for drinks, grilled octopus for my appetizer, a rib eye with french fries and salad in addition to a seafood stew with white rice and french fries for my entrees, and a tres leches (3 milks) for dessert.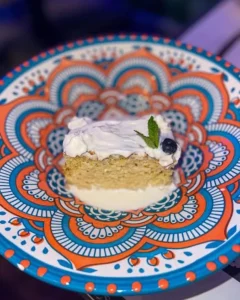 The pineapple mojito was for pulp lovers, as the pineapple is fully blended in the drink rather than the juice strained into the cup. The piña colada was a 10/10. It is different in the sense that one typically expects a frosted milkshake consistency, but theirs is served liquidy and on the rocks. Additionally, theirs is on the much sweeter side since they add coconut milk and condensed milk. This was a great twist, and I now prefer them this way.
For the appetizer, the grilled octopus was nice and chewy and bigger than I'm used to receiving at other restaurants, so it's a good sharing plate for two. While the rib-eye was cooked well done (as requested) and had a good taste, it is clear this restaurant focuses on its seafood. My seafood stew was a perfectly thick consistency packed with seafood and tons of flavor. My seafood had all the nice colors one would expect. My recommendation for sides would be the crinkle-cut french fries, crispy and salty.
When it comes to dessert, the tres leches is a no-brainer. This is a very popular dessert in Hispanic cuisine. It consists of spongy cake, resulting from being drenched in three different kinds of milk, one of them being condensed milk, which makes it sweet and the milk is thick. They typically bring this dish out in beautiful, vibrant-colored bowls, enhancing the overall experience.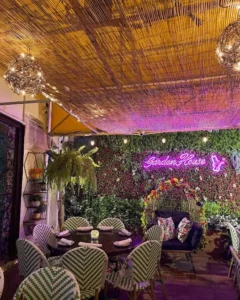 The Garden House staff will answer any and all of your questions, and I had the privilege of learning about several of their employee's backgrounds. These employees spoke both English and Spanish and were very friendly. They informed me that, like the owners, most of the plates at The Garden House are Colombian, such as their most-ordered entree, the "Bandeja Paisa," a typical Colombian dish consisting of meat, pork belly, fried egg, white rice, red beans, sweet plantains, avocado, and chorizo. However, they are labeled as "Latin" cuisine rather than just Colombian due to serving other plates such as Ceviche or Lomo Saltado (both Peruvian), and Coconut Red Snapper (Dominican). When I go back, I'll aim to head there early enough to try both the Bandeja Paisa and their wide variety of breakfast options!