Versailles is Cuban food at its best. 
Upon arrival, I noticed how busy the parking lot was, but there was plenty of street parking. They have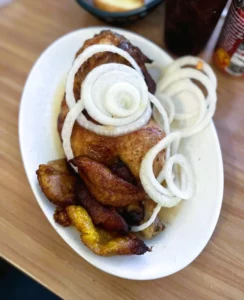 both indoor seating and an outside patio. Since it was quite a warm day, I opted for a booth inside. Despite the busy parking lot, I was seated right away, greeted by a friendly face, and provided a menu. We were given a starting appetizer of freshly toasted and buttered slices of bread. Every dine-in meal receives this complimentary bread. The bread was served hot and tasted super yummy; however, I wish it was served with some sort of sauce or dip. 
The menu had so many delectable-sounding dishes. However, I decided to try two dishes they are well known for: Famoso Pollo Versailles (Versailles Famous Garlic Chicken) and Rabo Encendido (Oxtail Stew). Since I came on a Friday afternoon, they had their lunch menu which carries some of their most popular dishes in a smaller serving size. I ordered the Rabo Encendido off the lunch menu, which came with rice and beans, but I opted for more rice instead of beans. It was also served with a side of French fries. The oxtail was cooked so tenderly and the stew was bursting with delicious flavors. The perfect bite of oxtail and rice was like an explosion in my mouth. I also found that dipping the French fries in the stew tasted delicious. The serving size of this dish was the ideal amount for a hearty lunch.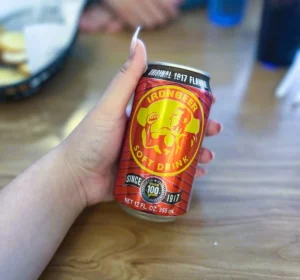 The next dish we ordered was the Famoso Pollo Versailles. This is their most well-known dish and for good reason! It is a juicy roasted half chicken marinated in their tasty garlic lemon sauce and garnished with sliced onions. This dish was also served with rice and beans, but I ordered a side salad instead of beans. The chicken came out piping hot, sitting in the juicy sauce. The meat was so tender and flavorful, and the sliced onions complemented it well. The sauce was incredible, and it tasted wonderful with a bite of rice and chicken.  
Even though we ordered only two dishes, it was more than enough food for two people. We even had enough leftovers for another meal. This place is definitely generous with its portion sizes. I also ordered a drink called Iron Beer, which is a soft drink that originated in Cuba in 1917. It tasted very similar to root beer but with a stronger vanilla flavor. It was the perfect refreshment to have with my food.  
I had an amazing dining experience at Versailles! It was great trying some traditional Cuban dishes and I absolutely want to visit here again to try more!