Cafe Gratitude where vegans and non-vegans alike can enjoy a meal.
While researching where to go for my gluten-free friend's birthday, I came across a list of several trendy spots that I had heard of. A couple of years back, I visited Cafe Gratitude's Venice location and ordered the "Yo Soy Mucho" Mexican bowl. When I saw it on the list, I remembered how much I liked it and decided it was time to return. We went to the Arts District location, which was not taking reservations at the moment. There is a parking lot conveniently situated at the entrance of the restaurant, and although we went on a Thursday night, we had no problem securing a table for six and were seated right away.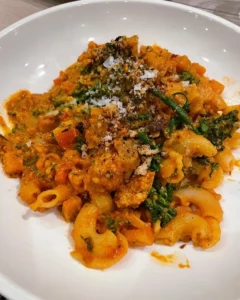 Cafe Gratitude has an all-day menu from 10 a.m. to 9 p.m. as well as a brunch menu from 10 a.m. to 1 p.m. Our group ordered several dishes, but I tried the following: "I am Eclectic," "I am Blessed," and "I am Gracious." The "I am Eclectic" is a gluten-free crispy cauliflower with adobo buffalo sauce, ranch dressing, and celery on the side. We were all shocked this dish was gluten-free as it tasted too good to not be prepared without breading. It wasn't too spicy, so the side sauces were a nice touch. The "I am Blessed" is a gluten-free butternut squash pasta Bolognese with blackened tempeh, broccolini, cashew mozzarella, garlic rosemary breadcrumbs, red chili flakes, and gremolata. This dish was absolutely delicious; I devoured the whole thing! It was filling, yet did not make me feel heavy at all. I really recommend this dish. The "I am Gracious" is an arugula salad with Persian cucumbers, avocado, cashew mozzarella, basil hempseed pesto, balsamic reduction, Brazil nut park, and cauliflower hempseed rice. All the ingredients in this salad were extremely fresh and flavorful, which is fitting considering one of the restaurant's core values is "fresh."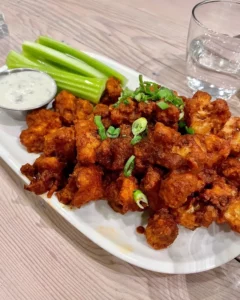 The staff was young and fun as they engaged with us and encouraged us to order in the "I am" fashion as stated in the menu. According to their website, the staff lives by the words "love and gratitude," which is evident in the restaurant's fast and great customer service. I truly liked the aesthetic and vibes of this location, complete with fun artwork, elegant seating, and bright and energetic lighting. I recommend checking out their Instagram page to see content revolving around food, lifestyle, and quotes. Their seasonal posts include "I am" statements that are relevant to the time period or season. This place is an excellent spot for people who need or are looking for gluten-free options. However, since you can't really tell the food is plant-based since everything is so flavorful and delectable, I would even suggest this spot for non-gluten-free eaters. I definitely want to go back to try their brunch menu, specifically the juices ("I am Refreshed"), smoothies ("I am Cool" and "I am Grace"), and smoothie bowls ("I am Vivid" + "I am Renewed").