MillCross – "a gathering place to discover carefully crafted specialty coffee drinks and Good Eats".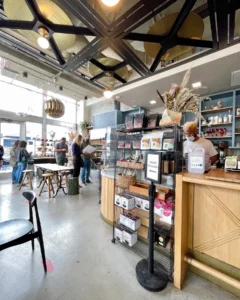 A couple of cute cafes sprang to mind while looking for where to go to brunch with my mom for President's Day, but MillCross Coffee Bar and Kitchen was the ultimate choice. We found a convenient parking spot at a meter across the street, and as we walked up to the restaurant, we noticed how full it was both inside and out. We entered, and there was a bit of a line to order. It's a cafe-style process, so you order, receive a number, find a table, and they bring the food to you. While waiting for our food, we were fascinated by the decor of the place, which includes cowboy hats hung on the wall and unique tables and chairs.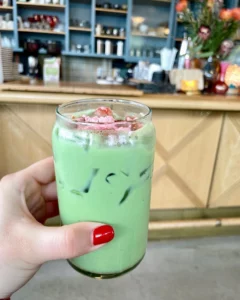 Brunch is served daily from 8 a.m. to 4 p.m., and there are extensive drink options available, such as coffee, espresso, teas, and lattes. Their matcha lattes are frequently featured on Instagram, so I had to try out their iced strawberry matcha latte. The strawberry matcha latte was certainly on the sweeter side, so it wasn't something I'd get on a regular basis, but it was definitely a treat! I'll probably just try the regular matcha latte next time. My mom got the hot maple pecan latte. This drink caught our eye because of its special flavor; however, it was a tad bit too strong and could've used more milk to balance it out.
Two of their most popular menu items are the MC Burrito and the MC House Waffle. We decided to select one sweet and one savory item. We went with the MC House Waffle for our sweet option and the Saucy Egg Muffin for our savory pick.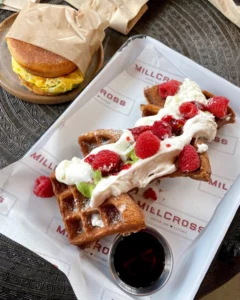 The MC House Waffle was a gluten-free waffle served with house-made vanilla and sweet matcha creams, raspberries, a spot of MC jam, fresh whipped cream, and a side of maple syrup. I couldn't believe the waffles were gluten-free because they tasted like normal ones. The cream combinations and fresh raspberry topping made the dish come together perfectly. Surprisingly, the dish wasn't too sweet as it was the ideal amount of savory from the waffle, sweet from the creams, and fresh from the berries. It's a great dish to share!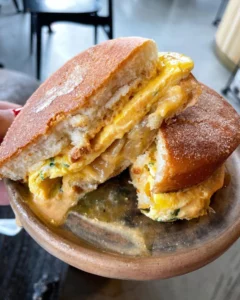 The Saucy Egg Muffin sandwich contains an organic egg on a crispy muffin with aged cheddar cheese, grilled onions, and a medium spicy sauce. It was quite light and had a nice spicy kick to it from the sauce. The eggs were superbly cooked, and the muffin didn't get soggy even with all the sauce and egg yolk drip. I truly recommend both of these menu items.
The decor, music, young staff, and crowd all contribute to the positive vibes of this establishment. I recommend this spot for a weekend brunch because of the photogenic quality of the restaurant's interior, and, of course, the food. The presentation of the drinks and food are spectacular, and you can tell the chefs really care about the big picture of the food: taste and presentation. I'll definitely be going back soon to try the MC Burrito and the regular iced matcha latte.