How hot is too hot at Love Burn?
On the way to San Francisco, I stopped by South San Francisco and tried out Love Burn, a fried chicken shop. I've seen a few fellow foodies post about this place, and I decided to finally give it a try! I have not had many hot chicken sandwiches in my life, but trying Love Burn definitely set my standards high. Inspired by Nashville hot chicken flavors, Love Burn created its own spice blends and flavors. If you're not into super spicy food, they have a range of spice levels to match your preference.
The spice levels on their menu are as follows:
     0: Just a Friend – No Spice
     1: Crush – Mild (Jalapeños, Sriracha)
     2: First Date – Medium Hot (Habaneros)
     3: Burning Love – Starts to get painful (Ghost Pepper, Carolina Reaper)
     4: One Night Stand – Must sign a waiver! (Complementary side of Milk)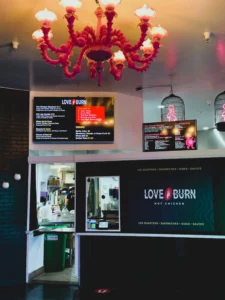 Love Burn is located inside Hometown Bowl, a bowling alley. After walking in, you can find it in the right corner. We walked in a few minutes after they opened, so the bowling alley was empty and lit with a few pink neon lights on the walls. After trying Love Burn Hot Chicken, I feel confident when I say it's the perfect food to go along with any fun night out with friends, whether it be a bowling night or not. The workers were super friendly and gladly gave me recommendations. There was a Hello Kitty vending machine to keep me busy while waiting for the food.
They have a relatively minimal menu with hot chicken options (sandwiches, legs, thighs, tenders), hot wings, sides (salads, French fries), sauces (cool ranch, hot ranch, Chipotle aioli, BBQ sauce, hot sauce), and even churros served with caramel sauce and coated in cinnamon or Mexican chocolate sugar. To help with the heat and thirst, they also have drink options, ranging from canned Coke and Sprite to organic whole milk and bottled water.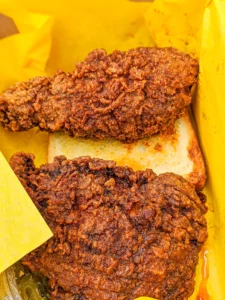 I ordered their hot chicken sandwich, which was a crispy fried chicken thigh, creamy coleslaw, and pickles sandwiched in between buttery potato buns. We also tried their hot leg and thigh, which came with a piece of thick, buttered Texas toast. For those, we ordered the chicken with spice level two, or the First Date level. We got a side of fries, a pack of five mini churros, and a variety of sauces.
Starting with the hot chicken sandwich, I appreciated the huge portion of the chicken thigh! It was superbly crispy and crunchy, perfectly tender, and had a beautiful texture. The pickles and coleslaw cooled off the spice a bit, and the bun was soft and buttery. I quickly realized I don't handle their spice well, as I chugged water after every bite and used up the cool ranch sauce in minutes, but it was still thoroughly enjoyable regardless of how much my mouth was burning. Next time, I'll try level one!
The crispy fried chicken thigh was huge, which further emphasized the generous proportions offered here. The Texas toast was a typical buttery and thick toast, and I devoured it because it cooled off the spice sensation. The chicken tasted exactly like the hot chicken sandwich, and although it sounds simple, the spicy seasoning on the chicken made it unique and flavorful. I love that they include a piece of Texas toast and some pickle slices; they were great, simple additions to the chicken meal.
Their French fries were nice and crispy on the outside and soft on the inside, reminding me of delicious, flawlessly seasoned Cajun fries. I enjoyed these with some of the hot ranch and Chipotle aioli.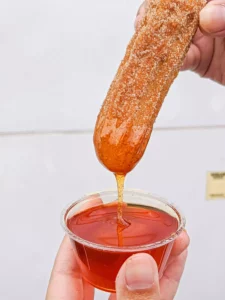 The food item that surprised me the most was actually their five-pack of mini churros. I would have never thought to combine Mexican churros with Nashville-inspired hot chicken. These churros were covered with a light coat of cinnamon and sugar and were still fresh and hot when I took my last bite, though that could be because I ate everything else really fast. The sauce dips were undeniably unique, and their sweetness balanced out the spicy and savory qualities of the chicken.
All in all, Love Burn's menu is composed of well-balanced spicy, sweet, and savory flavors, and really demonstrates that less is more. Though the bowling alley wasn't open at the time, I loved the vibe of Love Burn in Hometown Bowl; I feel like it was the ideal location choice for them! I'll definitely bring some friends the next time to try their hot wings and bowl some of the best games ever.