If Cascade Poolside Cafe is good enough for Al Capone, then count me in!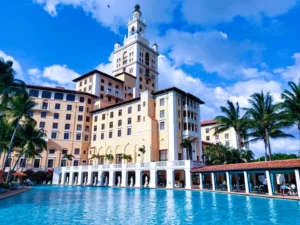 Overlooking the world-famous Biltmore pool, Cascade Poolside Cafe offers poolside dining for lunch and afternoon tapas. Cascade Poolside Cafe is an outdoor oasis tucked under a cascading 23-foot waterfall that overlooks the Biltmore pool. The al-fresco restaurant is set in the colonnade-lined loggia, which is perched at the edge of the swimming pool with views of the majestic Biltmore tower and gardens.
Where Cascade Poolside Cafe has decided to reside, is none other than the Biltmore Hotel in Coral Gables. This hotel was built in 1926 by a young developer named George Merrick, who is known as the founder of Coral Gables. The hotel became a place to host glamorous fashion shows, galas, golf tournaments, and water shows in what was then the largest pool in the world (600,000 gallons and half a square mile). Then World War II happened, and the federal government transformed the Biltmore into a military hospital. Once the war was over, it continued being a hospital for veterans. In 1952, the University of Miami made Biltmore its first home. Visitors or passersby who've been to Seville, Spain, may feel a sense of déjà vu when they spy the 93-foot copper-clad tower. It's actually modeled after Giralda Tower. Over the years, many famous people have stayed here, including Ginger Rogers, Judy Garland, Bing Crosby, President Franklin D. Roosevelt, and Al Capone.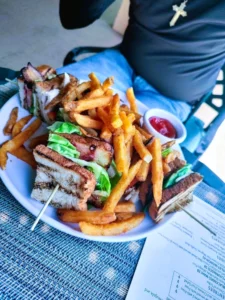 So, let me tell you about some of Cascade Poolside Cafe's menu items. For appetizers, they offer a smoked fish dip, gazpacho, guacamole and chips, fish skewers, crab cakes, chicken wings, Key West Pinks, ceviche, steamed bao buns, and focaccia with vegetable dip. Their salads include quinoa salad, a fruit and berry bowl, tomato avocado salad, curried chicken salad, Caesar salad, and beet salad. For these salads, you can add the following: grilled chicken, grilled petit beef filet, crab cake, or avocado. Their sandwiches include a turkey club, tacos, Blackened Mahi, Cascade Signature Burger, Impossible Burger, and a filet mignon sandwich. Their main dishes are Blackened Mahi, churrasco, and filet mignon. 
Anyway, now that I've whet your appetite, you should go see the Biltmore Hotel, which is simply stunning, and then you might as well stop by Cascade Poolside Cafe for a rest stop. 
Now, let me describe the dishes that I have personally tried.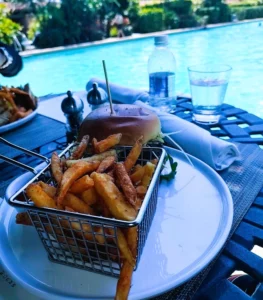 The turkey club sandwich with fries consists of Boston lettuce, applewood smoked bacon, Swiss cheese, and cranberry mayo. This is a classic sandwich that is made fresh and is quite filling. 
The Impossible Burger with fries includes a plant-based patty, hummus, caramelized onions, pea shoots, arugula, tomato, and a brioche bun. The burger was very well seasoned, and the caramelized onions combined with the hummus make this burger pop with flavor. 
The Cascade Burger with fries comes with an eight-ounce blend of sirloin, chuck, and brisket burger as well as arugula, tomatoes, pickled red onions, and a brioche bun. The burger is filling, cooked to perfection, and moist. 
I will see you poolside. I will be with Al Capone, sipping a few cocktails.