The Indian Harbor offers its patrons gourmet Indian cuisine in an ultra-modern setting.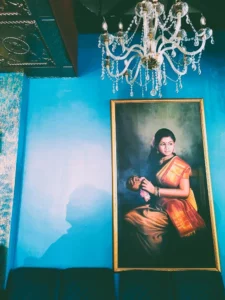 The Indian Harbor is a gourmet and ultra-modern Indian restaurant located five minutes from Fort Lauderdale Beach. The restaurant specializes in modern and traditional Indian dishes and their executive chefs have previously worked in the best hotels in India. Their menu offers lunch specials as well as vegan and vegetarian options.
I had the pleasure of meeting Dilip Hegde, the general manager of The Indian Harbor. He kindly told me about the ever-changing lunch specials. For example, I ordered the mango curry chicken lunch special, which was served with side dishes, but it was only offered that day. Dilip explained that a lot of these side dishes are not even featured in their regular menu, and they are dependent on the chef's choices.
My lunch special came with a small but tasty side salad to whet my appetite. Then, I received a substantial plate containing various components. The mango curry was warm, fruity, sweet, and smokey. It came as a number three for spice level, which was definitely enough heat for me. The restaurant will adjust the spice level to your liking on a scale of one to five, with one being mild and five being the hottest. Normally, a spice level of three in other Floridian Indian restaurants I've tried is quite mild. However, this was not the case, and was instead more like a level four. So, beware when ordering.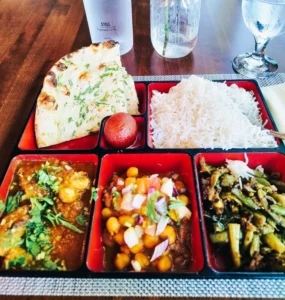 My order also included some delicately cooked plain white rice, a pleasant garlic naan (which is $1 extra if you choose this option as opposed to the included plain naan), and their take on aloo tikki chaat (which is a street food native to the Indian subcontinent and popular in North India, Pakistan, and Bangladesh). The aloo tikki chaat, which includes a moist potato patty with chickpeas and spices, was especially delicious. I also sampled their green bean poriyal, which is a traditional dish from South India. This had a very lovely, warm, and smokey taste to it.
To finish off my meal, I enjoyed the dessert of the day, which was a gulab jamun. This is a dessert that originated in the Indian subcontinent and is a type of mithai popular in India, Pakistan, Nepal, the Maldives (where it is known as Gulab Ki Janu), Bangladesh, and Myanmar. It is also the national dessert of Pakistan. This was similar to a donut, but heavier and topped with a sweet honey-flavored sauce.
The service at The Indian Harbor was friendly, and the atmosphere was unrushed. The decor is gorgeous, colorful, sleek, sexy, modern, and authentic all at the same time. A truly stunning and beautiful setting with paintings, an Instagrammable wall that reads "It's all about the spices," and shining crystal chandeliers.
To summarize, I have found it quite hard to find decent Indian restaurants in Florida. But, if you like Indian cuisine as much as I do, this establishment delivers in terms of ambiance, decor, service, and, above all else, food. If you are in the area, do give The Indian Harbor a try.