When at Aubi & Ramsa remember don't consume (boozy) ice cream and drive!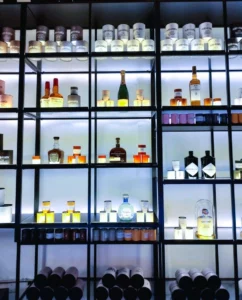 My friend and I literally stumbled upon this hidden gem. And wow, we are so glad we did. What is Aubi & Ramsa, you ask? It looks sleek, sexy, and like a speakeasy kind of place. You stand outside and wonder, is this a bar? A restaurant? What is it? Then, you go inside and surprise! The establishment is only for those over the age of 21 and serves boozy ice cream and sorbet as you've never had before. Innovative? A risky business concept? Yes, and yes! Does it work? Surprisingly, yes!
Once home, I Googled Aubi & Ramsa to find out more. To my amazement, I discovered they have several locations in Florida, including the one I discovered in the Design District, as well as locations in Miami Beach, Aventura Mall, Downtown Tampa, and Hard Rock Tampa. They also hit Las Vegas, with locations in Resort World and Caesars Palace. But, they did not stop there; they even have an establishment in New York in the Meatpacking District. So, in short, it is a thing, and it is successful; who would have guessed? They will even deliver straight to your door!
We scored with an awesome bartender, or ice cream-tender, named David. He was behind the counter and absolutely knew his stuff. This man loves sorbet and ice cream and is a real credit to this establishment. If you are the owner of Aubi & Ramsa and reading this, give him a pay rise — you do not want to lose him! In addition to the ice cream, this man makes the experience memorable. He told us he has sampled all and could describe every ice cream to a tee. It was like going on a wine tasting tour, or  an olive oil tour (Yes, it is a thing; I did one in Italy.), except with boozy ice cream/sorbet. Such fun!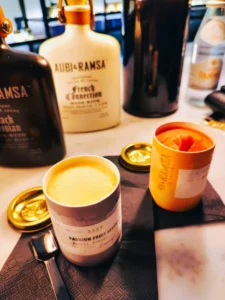 Regarding our "tasting tour," we sampled the Passion Fruit Margarita sorbet, which is made with Casamigos Tequila. We also sampled the Japanese Pearl Drop Champagne sorbet, which is made with Veuve Clicquot, SOTO Sake, and Chambord. What were they like, you ask? Fantastically refreshing, smooth, and unique. Now, I will have to go back as I am on a quest to sample ALL of them.
With a 4.9% alcohol content in each serving, you can definitely feel the effects just like drinking alcohol, as my friend attests. I was teasing her, but I found myself giggling inappropriately and joking, "being a Nanny, if I had new charges that need to chill out, maybe I would bring them here!"
Aubi & Ramsa is a definite must-do and try if you are a local, someone who likes innovative and different experiences, or if you are visiting. Their one-of-a-kind boozy ice cream and sorbets are made in small batches with premium alcohol and ingredients. All their flavors have 4.9% alcohol so as a warning, don't consume alcoholic sorbet or ice cream and drive! It's now a thing, you know?