Michael's Cookie Jar is home to the only all-scratch, all-butter, hand-made cookie in Houston!
Michael's Cookie Jar is a popular cookie shop in Houston that opened in 2005 and now has three locations across the city. They are a small place in terms of size, but a big deal when it comes to gourmet cookies that will make you come back for more. Michael Savino, the cookie shop's founder, came from New York City to make cookies a priority here. Mr. Savino and his employees are well trained in this business, regularly making cookies for usual sales, holiday specials, and birthday parties. There are numerous cookie types, such as chocolate chip, macadamia, and M&M, to name a few. Certain cookie flavors are sold on weekends or for limited-time sales throughout parts of the year. The motto of this establishment is "Share the love!" which is evident in how everything is made from scratch with care every day using real butter and natural ingredients. Customers can also come here to buy packs of cookie dough to bake at home themselves. Once a year, Michael's Cookie Jar even sells a pie for people to consider purchasing.  
Michael's Cookie Jar has a typical shop appearance from the outside with a small patio. The entrance door has a creative design that makes it look like a classroom. Walking inside the shop reveals a dimly lit space that is not particularly spacious or suitable for much sit-down dining but is primarily intended for selecting gourmet cookies to go. The vibe is calm, but the smell of freshly baked cookies is intoxicating in the most pleasing way. The wide selection of cookies is another key factor as to why Michael's Cookie Jar is such a memorable experience. Their special oven is visible for patrons to see what makes this business so admired by Houstonians. This shop is family-friendly, exceptionally clean, and organized for making efficient sales on their famous cookies.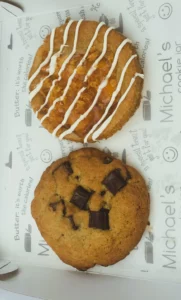 I ordered a couple of their famous chocolate chip cookies during my last visit to the Fountainview location. This is my favorite cookie flavor in general and Michael's Cookie Jar makes them the best. Each cookie was straight from the oven with a warm temperature and tasted extraordinarily fresh. The center of these cookies was incredibly soft and tender, while the rim of them was slightly crispy. The brown part of the cookie tasted amazing, and the chocolate pieces were unbelievably delicious and rich with cocoa. They were square chunk pieces as opposed to small chips that other places use. The cookies have that original, old-fashioned taste that could please older generations craving that specific flavor. 
I also tried the Peach Cobbler cookie, which was a special cookie that they were baking. They rotate through specials quite frequently so I am not sure when Michael's Cookie Jar will be serving up the Peach Cobbler flavor, but when they do, it is a must-try!
The service at Michael's Cookie Jar is always warm, welcoming, and efficient. The staff is ready to answer questions or carry out requests, such as asking for cookie orders to be warmed up or attained straight from the oven. They are well-informed about specials and the most popular items for the current week's sale. Employees are helpful with customer concerns on the cookie dough packs to minimize baking complications as much as possible. The consistency of the cookies is truly outstanding and never disappoints. The prices can range from $2 for one cookie to $50 for a large order. This cookie shop has a family-oriented atmosphere that leaves long-lasting impressions on both regulars and first-timers.