Classic Chinese flavors meet dreamy ice cream only at Chinatown Ice Cream Factory.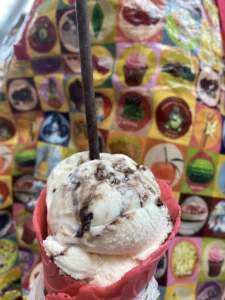 Anchoring the narrow Bayard Street in Manhattan's Chinatown since 1978, Chinatown Ice Cream Factory is an oldie but a goodie. Opened by Philip Seid, the family-owned ice cream shop makes homemade ice cream with traditional Chinese recipes. When it first opened in a very different Chinatown from today, half of the shop was a candy store and the other half was a scoop shop. The candy ice cream toppings on offer today are a nod to the nostalgia of the dual ice cream parlor and candy shop, which now solely sells ice cream.
Even in the winter, the gold storefront with a green dragon mascot on the signage is often obscured by a long line of ice cream fanatics waiting for their fix.
The second generation, Seid's daughter Christina Seid, runs Chinatown Ice Cream Factory, which has become an unofficial New York City landmark. The bustling business has grown with three locations, including the original in Chinatown, one on Essex Market in the Lower East Side, and another in Flushing, Queens where it's called Flushing Ice Cream Factory.
We frequent the original shop in Chinatown, where there is standing room only and patrons stand elbow to elbow peering into the freezer at the colorful containers of ice cream. A kaleidoscope of colors hints at the magical ice cream flavors and even better taste. After perusing the 40 flavors, including signature and seasonal flavors, it's a grab-and-go situation in the narrow shop as there's no seating.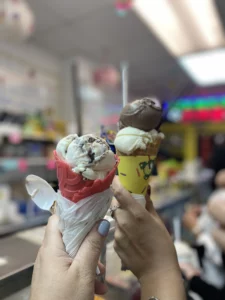 The tongue-and-cheek menu board lists the "regular" flavors like lychee, black sesame, green tea, ginger, mango, durian, red bean, taro, and Thai iced tea; "exotic" flavors like vanilla, chocolate, coffee, pistachio, and Oreo cookie; and "special appearances" like Banana Durian, Caramel Bacon Swirl, Jackfruit, NYC Cupcake, Jelly Doughnut, and Green Tea Oreo. All keep patrons coming back for more. The accommodating staff are eager to answer questions and provide samples.
We waited in line for about 15 minutes during our visit to Chinatown Ice Cream Factory, which was fine because the line moved quickly and gave us just enough time to decide which flavors to order. That was until we got to the case and saw all the beautiful buckets filled with fanciful flavors. It was time to start sampling before making selections.
We ordered two colorful cones piled high with generous scoops of Almond Cookie ice cream, which was packed with Chinese almond cookies from Fung Wong Bakery; Don Tot, which was made with a light and creamy Chinese egg custard; Pandan, which has a green hue and was made with a Malaysian leaf; and vanilla fudge, which was Madagascar vanilla ice cream swirled with rich chocolate fudge. We would have ordered more, but the scoops are huge. I'd recommend that you ask for a cup with your cone so you can take your time to lick and savor each flavor.
Each location of Chinatown Ice Cream Factory has a standard collection of ice cream along with unique flavors. For example, the Lower East Side location has squid ink, horchata, banana pudding, dulce de leche, baklava, and white chocolate raspberry cheesecake flavors. With so many options, each of which is exceptionally delicious, you will quickly see why locals visit again and again.