Creative cocktails and ramen on Manhattan's Upper East Side.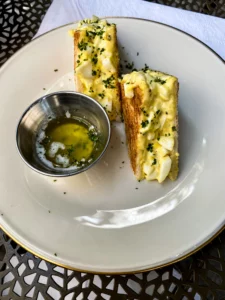 Tucked down a largely residential side street on the Upper East Side between a co-op apartment building and a parking garage, it's not readily apparent to passersby what kind of restaurant NR is. In fact, before the pandemic, it was easy to walk by the Japanese restaurant without knowing it existed, but the pandemic's addition of a cozy curbside outdoor dining space with a handful of metal tables and chairs has made it less nondescript.
Opened in fall 2019, NR, which stands for "'n Roll," "Non Resident," and "No Regrets," seems to be a world away from bustling New York City as lively jazz music plays in the indoor retro digs with a speakeasy vibe. The intimate cocktail and ramen respite, replete with small marble tables, cozy wooden banquettes, and a welcoming bar, evokes a bygone era while infusing contemporary characteristics. Opened by Shigefumi Kabashima, who also owns the similarly styled Ramen, Oysters, Kitchen and Cocktails in Harlem, NR is inspired by port city restaurants that flourished during Japan's Meiji era (1868-1912) when the country began to open up and embrace Western influences.

The craft cocktail program alone makes NR a destination; the brief food menu elevates this restaurant as the ideal spot for weekend brunch, dinner and drinks, and post-dinner cocktails. Every one of the two dozen classic and house-created cocktails is served in vintage and whimsical vessels, ranging from classic barware to antique teacups to skulls. Most are painstakingly crafted with ingredients like yuzu, elderflower, green tomato jam, and truffle honey, and are accompanied with hand chipped ice or expertly molded ice spheres as well as adorned with elaborate garnishes like palo santo or an ignited cinnamon-topped lemon.
If you fancy the cocktails with elaborate presentations and pizzazz, order off the "Cocktails" list. While the "classic" cocktails, beer, wine, and sake are all solid choices, they lack the pomp of the "Cocktails" like the refreshing "Grapefruit" (mezcal, elderflower, grapefruit, and lime served in a small carafe cradled on a bed of shaved ice piled inside a skull with a lit plank of palo santo) and the sweet tiki-style "Pineapple + Passion Fruit" (rum, pineapple, passionfruit, vanilla, and lime poured over crushed ice and served in a bespoke porcelain cup topped with a lemon that is sprinkled with cinnamon and torched tableside).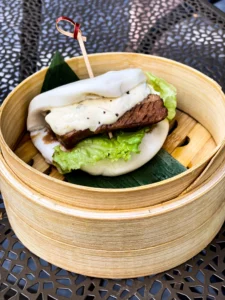 While the cocktails alone are worth a visit, don't miss the chance to order off the equally exciting food menu, which has more shareable appetizers than mains. No matter what you order, it's all amazing, expertly prepared, and efficiently served. The steamed pork belly bun with lettuce, scallion, house teriyaki, and tartar sauces, the karaage fried chicken with matcha salt, and the Japanese truffle egg sandwich with truffle oil, parsley, and a side of warm drawn butter are all must-orders. The weekend brunch menu features the "Mixed Plate," which includes a truffle egg sandwich, karaage fried chicken, and mixed salad and is large enough for one diner's brunch or a table of folks to sample several appetizers.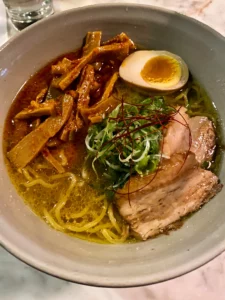 At brunch and dinner, a trio of equally delicious ramen soups are available, including the chicken- and fish-based broth "Kyoto" with pork belly, garlic oil, soft boiled egg, scallions, and spicy bamboo shoots; chicken-based broth with house miso "Sapporo" with chicken char siu, corn, butter, bean sprouts, scallion, and red pepper; and the vegetable-based broth "Yuzu + Truffle Vegetable" with fried tofu, six kinds of seasonal vegetables, yuzu, truffle oil, and scallion. The dinner menu also includes a trio of soup curries.
The comfort food, cozy space, and welcoming staff are enough motivation to return, but it's the desire to try every single one of the inventive cocktails that will compel you to come back sooner rather than later.