With various Asian eateries to choose from, whatever you are craving, chances are you can find it at The Block.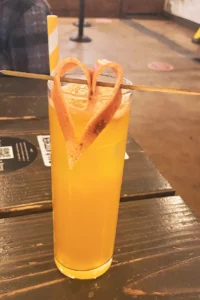 The Block Foodhall & Bar is an awesome spot with locations in Annandale, VA; Washington D.C.; and Bethesda, MD. According to their website, The Block was the first food hall in Northern Virginia, is Asian American-owned, immigrant-owned, and female-owned, so I was excited to give it a try. I visited the Annadale location on a Saturday night with some friends, and as soon as I walked in, I knew it was going to be worthwhile because the place was packed. It took us a while to find a seat since it was so busy. The Block offers several food hall-style restaurants, such as Balo Kitchen, Pokeworks Co, and Bold Dumpling. They also have a dessert spot called SnoCream Company and a bar named The Block Bar that serves up a full drink menu, including sake.
At The Block Bar, our table of four ordered some cocktails and a small bottle of apple-flavored sake to share. I chose a tequila and passion fruit cocktail that was so fruity and delicious. The heart-shaped orange peel as a garnish was extremely cute and a lovely touch to the drink. This sort of elevated cocktail was not something I expected at a food hall, so I was pleasantly surprised. The sake was also amazing and became a fun experience to share and try with friends.
For appetizers, we ordered soup dumplings and Korean fried chicken nuggets. Both were incredible in their own ways. The soup dumplings were warm, comforting, and flavorful, while the chicken nuggets were crispy yet tender. The chicken nuggets contained fried chicken thighs flavored with five-spice and basil — so succulent! They came in a huge portion, so be ready to share these or take the extras home.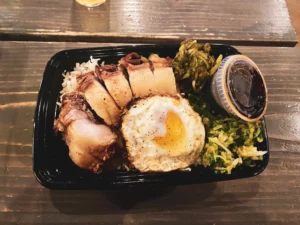 For the main course, I ordered a pork belly and rice bowl from Balo Kitchen. In addition to the pork belly and rice, it came with pickled mustard greens and fried shallots, all cooked in scallion-ginger oil. I also added a fried egg to top it off. For a secondary entrée, my group got the Curry Loco Moco, which included a ground beef and pork patty, curry gravy, scallions, and fried egg served over rice. Both dishes were delectable. Portions were generous, so we got to take home leftovers for the next day. Pro tip: We ordered using the QR codes on the table so we could sit and enjoy our drinks rather than stand in line while we waited to order our food.
The Block Foodhall & Bar is a phenomenal spot for date night or meeting up with friends. There are so many restaurants and dishes to try that I know I'll be returning for more. You can stop by for a meal, dessert, or even a drink. Depending on the location, their bar is open until midnight or 2 a.m. The Block Foodhall & Bar has something for everyone, as long as you like Asian-inspired cuisine!