Courage Bagels just may be the best bagels in Los Angeles!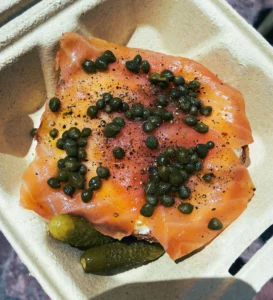 Courage Bagels is a trendy spot that almost every bagel lover in L.A. has heard of. Their competitors are Yeastie Boys Bagels and Pop's Bagels, but honestly, I am a devout Courage Bagels fan after my visit on Sunday. The 40-minute wait, including the line and waiting for bagels after ordering, was totally worth it! There is an order window, which almost always has a line halfway down the block. It goes by quite quickly if you socialize with whoever you go with or make friends in line. Everyone has the commonality of being a bagel lover! We waited about 15 minutes for a table to free up and were so happy when we finally got one right before our bagels came out.
I got the sea salt sesame simply delicious half bagel. This consisted of regular cream cheese, capers, salmon, olive oil, pepper, and lemon. My friend got an everything bagel with regular cream cheese, cucumbers, olive oil, pepper, and lemon. Upon our first bites, my friend and I looked at each other as if saying "wow, these are the best bagels we have ever had in our lives!" The bagel itself had such an excellent consistency — soft inside and crispy outside. It was perfectly toasted, and there was a perfect amount of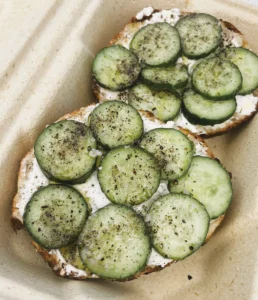 cream cheese. There was a generous amount of salmon and other toppings too, which made the price seem worth the purchase. However, both my order and my friend's order were rather salty. Next time, I will probably just get a plain bagel with the same toppings so that it is less salty. All in all, this was absolutely the best bagel I have ever had in L.A., and it was on par with New York bagels, which is saying a lot! I think it is super unique how they only offer bagels with lox, and not the classic bacon, egg, and cheese option that you can find at any bagel shop. It is definitely an upscale bagel shop!
We did not interact much with the staff at Courage Bagels besides when ordering and when they handed us our orders. For how many people were in line, and how busy it constantly is, I think they do a pretty good job of customer retention which is due to their high quality and fresh ingredients. I will for sure be going back to Courage Bagels to try more of the menu!