Craig's is serving up classic American cuisine, with upscale comfort food and vegan specialties.
Melrose Avenue is one of those streets in L.A. that everyone dreams to dine on because of the constant paparazzi and celebrity sightings. Our reservation was on the earlier side at 5:30 p.m., so there was still light outside when we pulled up to the valet. We walked into Craig's restaurant and my eyes had to adjust immediately because it was so dark inside. The hostess led us to our table on the back patio, which was not that busy upon first sitting down.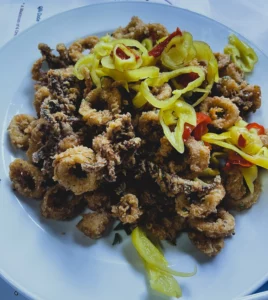 We were immediately served two types of bread. One of them was like soft pizza bread and was garnished with garlic and oil. I could have just eaten this entire bread basket and been satisfied; it was that good! To start, we ordered the Tuscan kale salad, the pigs in a blanket, the grilled artichoke, and the fried calamari. The Tuscan kale salad consisted of berry balsamic dressing, walnuts, blue cheese, apples, and cranberries. I am a very picky kale salad eater, and this was a really good one. Craig's had the perfect amount of toppings so that the salad did not seem boring, and they put the ideal amount of dressing for flavor as well. The pigs in a blanket surprised me because they were on the menu in such a fancy restaurant, but we had to order them because they were a childhood favorite of mine. Unfortunately, they were not anything special. The fried calamari was topped with pepperoncini's and had side dipping sauces of marinara and horseradish aioli. I thought it was quite unique to have the peppers on top, and I honestly will not be able to go back to eating calamari without this topping because they paired so well together.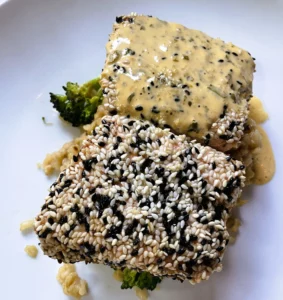 For our main dishes, we ordered the buffalo wing pizza, the shrimp diavolo pasta, the orecchiette truffle bolognese, the rigatoni alla vodka, the Meldman's honey truffle chicken, and the sesame-crusted salmon. The pasta plates were definitely my favorites of the main dishes, especially the shrimp diavolo and rigatoni all vodka. The shrimp diavolo had a lot of shrimp, which made me happy. This dish had the perfect amount of spice from the arrabbiata sauce, and the spaghetti was cooked exactly how I like it. The rigatoni alla vodka was interesting because there was prosciutto and peas in it, which was an excellent pairing. The sesame-crusted salmon was extremely unique, prepared well, and generously portioned. We also ordered a side of the fried Brussels sprouts which were dressed in a lemon ginger vinaigrette. These were absolutely delicious because they were superbly cooked and well-dressed.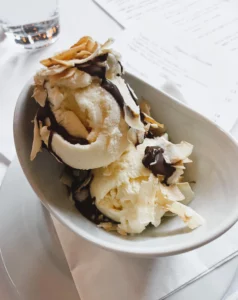 For dessert, we got the classic snowball, which was just vanilla ice cream in a chocolate shell topped with toasted coconut. As simple as this sounds, it was really delicious and the best way to end an amazing meal. I think we ordered a fair sampling of the menu considering we hit a dish under almost every category, and the only thing we missed that I wanted to try was the parmesan truffle fries.
The staff was exceptionally friendly and upbeat. They seemed truly happy to work at Craig's and be serving us, which made the experience even more enjoyable. The service was pretty fast for how big our party was and how busy the restaurant got. The ambiance of this place is very old Hollywood vibes, which means there was an older crowd until later in the night. The owner, Craig, even walked through the restaurant to greet each table. When we walked back through the restaurant to exit, the bar was immensely busy and every table was filled. I definitely want to go back to Craig's to try their brunch and experience the fun atmosphere of the spot again. After taking a sneak peek at their brunch menu, I am really eager to try the potato latkes small plate as well as the breakfast pizza with prosciutto, arugula, parmesan, and egg. Our group was completely satisfied with our well-rounded experience as we had fantastic food and great service, and we did, in fact, have a celebrity sighting while waiting for our cars after dinner!