Dessert Gallery is a sweet tooth's paradise.
Dessert Gallery is a women-owned gem that is well known and extremely popular in Houston. It has been open since 1995 and is still going extraordinarily strong. Sara Brook is the owner and operator of Dessert Gallery and has done an exceptional job with it.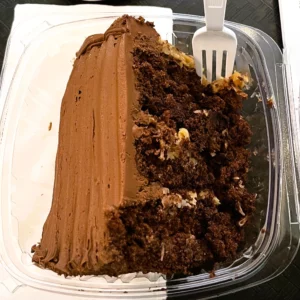 Everyone I have ever met, whether it is a friend, friend of a friend, or someone at work, has either been or at least heard of this fine establishment. You will notice this place gets remarkably busy on both weekends and holidays. It truly is an amazing place for cakes, cookies, brownies, and pies. They are masters of chocolate desserts, and you are in for a treat if you are craving a scrumptious and rich chocolate cake with great density and moisture. Dessert Gallery has a vast variety of cakes including chocolate varieties, an old classic yellow, white, tres leches, fruit flavors, tiramisu, toffee, or cheesecake. They also have some vegan chocolate desserts and even a keto cheesecake. To pair with your dessert, they offer coffee and hot chocolate. Jennifer's Cake and Mom's Cake are my favorites here; they are both chocolate cakes that are unbelievably delicious, rich, moist, and dense, with a fantastic layer of thick buttercream icing.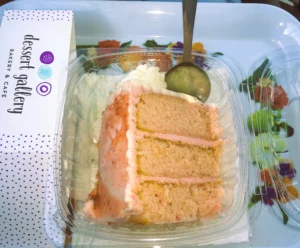 During my most recent visit, I ordered a slice of Jennifer's Cake, which was as awesome as can be and one of the best cakes I have ever eaten. It was full of rich, rich dark chocolate in the frosting and cake, with the ideal amount of sweetness and sharpness, and moisture in the cake itself, not just the icing. All the fillings in the cakes are homemade, never from pre-bought tubes or containers. You can really tell! Another reason I really like this cake and the other cakes here is the cake-to-icing ratio, which is just the right amount of icing. The cakes are made with love and developed by an expert pastry chef who is passionate about what she stands for and has a very well-trained staff. Every time I get a chocolate cake slice here, I can literally smell the chocolate through the clear, closed plastic container from half a foot away. Amazing, huh? I have never been underwhelmed by anything I have ever ordered here. However, I do have six go-to cake flavors including Jennifer's, Mom's, Diner, German chocolate, tres leches, and Strawberry Dream. Each one is unbelievably delectable, well-made, and costs $9 per slice, which is worth every penny.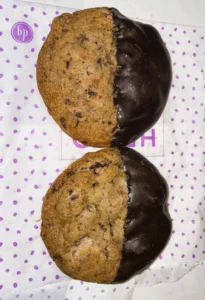 This spot is nicely illuminated, but not in a flashy way. It is very welcoming and artistic with a screen up top showing some cakes being prepared. People usually dress casually here, but sometimes dressier when dining in. As soon as you walk in, the vibe is amazingly comfortable and cozy, yet lively and happy. It is a wonderful place for families, dates, friend gatherings, and just an individual sweet tooth craving session. There are four-seat tables, booths, a couch, and an outdoor patio. The owner of this exquisite establishment is involved in multiple charities for animals, holidays, police, and veterans, as well as political and sporting events. Depending on the time of year, they offer cookies with designs for Hanukkah, Ramadan, presidential candidates, and the Super Bowl, to name a few. They even have cookies for dogs that look pretty enough to tempt humans.
Dessert Gallery is a terrific place to get birthday cakes and other special occasion cakes, and they even ship countrywide! The service here is highly organized, helpful, and efficient, with an emphasis on politeness and hospitality. Some Houston Texans and Houston Astros players have ordered from and enjoyed this place as well. They are usually open every day until 10 p.m. and until midnight on Friday and Saturday. Dessert Gallery is an A+ for me all the way!