India's Restaurant brings an Indian jewel to the heart of Houston.
The privately-owned India's Restaurant has been around since 1980, making it one of the oldest Indian establishments in the Houston area. It primarily offers North Indian cuisine, but there are some dishes from other parts of India on the menu as well. I have been a huge fan of this place for quite some time and have never gotten an order here that displeased me or did not live up to my expectations.
My first impression of India's Restaurant, which I still notice every time I walk in, is that it is well established, open to all kinds of people and occasions, and is distinctly classy. It looks like a place that you want to return to soon. It has a flat layout with booths near the window and tables everywhere else. The tables have a golden-colored tablecloth and crimson red napkins for the utensils. On the back wall on the opposite side of the door, there is a wall mirror with lines on it. There is also a TV near the middle back of the room where the staff opens drinks for customers.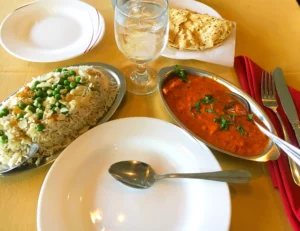 The very first dish I ever ordered here was Chicken Tikka Masala, which I still order often because it is one of my favorite Indian dishes along with butter chicken. They are similar, but they have some slight differences. Other than the fact that they are both unbelievably delicious and full of great aromas, the butter chicken is a tad sweeter with more of a buttery taste and chicken pieces that fall off the bone, while the tikka masala is slightly zesty with chicken pieces from a skewer. So, what makes this my favorite Indian restaurant? In terms of food, the curries and other cuisines are all authentic and expertly made.
India's Restaurant receives local praise for their hearty meal preparation. The food here tastes like it is all made with love from a chef rather than a grandmother if you know what I mean. The dishes are authentic, contain high-quality ingredients, and are clearly prepared by knowledgeable chefs. Based on all my dine-in and take-out experiences with Indian meals containing chicken, I can confidently say that this is the only place I would bet money that they use organic chicken. It always has a particularly good natural taste and is tender enough for a plastic utensil to easily cut through it. On top of this, there is an abundance of chicken in each order; they do not skimp! You will also never have to worry about rubbery meat texture or cheap aftertaste.
When it comes to a really tasty, rich, and immensely popular drink called Mango Lassi, this place nails it with its richness, sweetness, creaminess, and cold temperature. They also make the perfect degree of sweetness.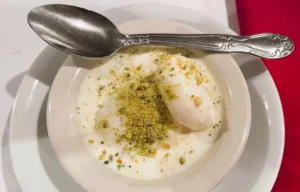 The consistency of this place is spot on. I have never had any missing components to my meals or had any complaints about inadequate meal preparation. This is a delightful place for a date, an individual craving visit, or a family gathering, but it is not too upscale that one feels intimidated or that it may be pretentious in terms of dressing up or being overpriced for what they are getting. The prices of the curries I mentioned are about $20 when combined with an order of rice or naan. The dress attire of the customers here is often casual or moderately preppy, but fancier attire is also welcome.
A reason to go here for people who are more hesitant on spice level is that they keep the spiciness to a milder degree so that everyone can get a real Indian meal without the extra kick. If you are new to this place or Indian food in general, they also offer a buffet with multiple great dishes and desserts from 11 a.m.-2:30 p.m. every day of the week with a reopening for dinner at 5 p.m. with a full menu. When he is around, the owner greets people at their tables or the counter. The service is excellent and always on time. Even when it is busy, my order comes out fast compared to other restaurants. Refills are repetitive since their staff is so attentive and available. This restaurant also has a soothing and cozy vibe to it, but not boring or stuffy.
The setup of India's Restaurant seems to make customers feel like they are in a spotlight, instead of in a hidden corner. The food flavors in terms of authenticity, meal prep, spice level, quality, and portions are all an A+. This restaurant is seriously great for all kinds of eaters in terms of those who are big meat-eaters, vegetarians, or a balance of both. The attentive, quick, and organized service is also an A+. The price is justified due to the taste, quality, and portion sizes.