Find Washington DC and Northern Virginia's hot spot for tacos and tequila at El Rey.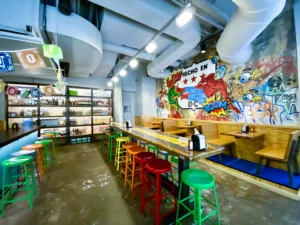 El Rey on Washington, D.C.'s popular U Street is a weekend staple for many locals. Now, the creative team brought the winning concept to Arlington with El Rey VA in Ballston Exchange. This hot spot is known for its tacos and tequila selection, among many other menu offerings.
El Rey in the Ballston neighborhood is a huge indoor and outdoor space where you can meet up with friends for lunch, dinner, brunch, or drinks. It has a really cool street art style aesthetic with graffiti and murals all around the inside of the restaurant. The space has a lot of bar seating, so you won't ever have to wait long to get your margarita!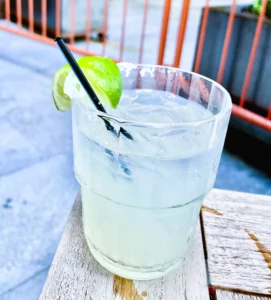 My group sat outside on the patio to enjoy our lunch at El Rey on Memorial Day. We ordered the chips and guacamole and esquites to start. Esquites are corn off the cob with lime aioli, cotija cheese, epazote, and cayenne, or basically elote (Mexican street corn) in a bowl that is much easier to share. The esquites were so tasty! We scooped it up with our chips and it was a great combination. We also got a pitcher of the house margaritas to pair with our meal. It was a wonderful house margarita and I'd love to come back for more during happy hour. At $34, the pitcher was a good deal for the four of us. Their singular house margarita is $10, but we got four margaritas out of the pitcher, so we saved a bit of money there.
For my main course, I opted for the al pastor burrito. This came with roasted pork shoulder, pineapple, lettuce, Mexican rice, pickled onions, pinto beans, chipotle aioli, cheese, and Mexican crema. I love al pastor, but I have never tried it in a burrito! I absolutely loved it and would like to order it again.
My friends got a mix of El Rey's tacos, and they loved them all. A few of their favorites were the birria taco, choriqueso taco, and Thai shrimp taco. The birria taco is braised beef, cheese, onions, and cilantro and is served with consommé dip. Birria is so trendy these days, that it was fun to finally try it out! Their choriqueso is ground chorizo sausage, mozzarella cheese, chile de arbol salsa, jalapeños, Spanish onions, and cilantro. The Thai shrimp taco was a unique option on the menu that came with marinated shrimp carrot and jicama slaw, sriracha aioli, and cilantro.
We loved everything we ate and can't wait to try more things off the menu. We also went during their brunch, which sounded delicious, but it was later in the day, and we weren't in the mood for breakfast food anymore. In the future, I'd love to try it.
Overall, El Rey was a huge hit with both my friends and me. This would be a great spot to meet up with a large group because they have so much seating inside, on their patio, and at the bar. I am excited to go back for more tacos and margaritas!