Gigi's Cafe claims to have the best waffles in the universe, but they have so much more than that.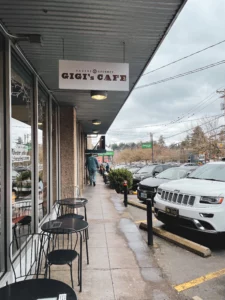 When my roommate and I's usual Sunday brunch spot had a really long wait, we were on the hunt for a tasty place that would be able to seat us quickly and quell our very empty stomachs. We scoured Yelp and found Gigi's Cafe. Located in the heart of Multnomah Village, this area is an up-and-coming neighborhood in the Portland suburbs. Quaintly nestled between a bakery, a Starbucks, and a cute clothing boutique, there are a few places you could peruse if there is a wait. But today was our lucky day! We were seated promptly after putting our names down.  
The inside of Gigi's is eclectic. Locally made art in various frames line the soft-yellow walls, and soft wooden tables of different sizes await diners. 
When you first walk into the cafe, the owner Charlene Wesler has a photo of her son Kyle Mohr on proud display. It hangs in memory of him because he was tragically killed in a motorcycle accident in 2020. I feel this sets the tone of the cafe entirely. What restaurant would hang something so important at such a prominent place if not a restaurant focused on family? That is Gigi's. Wesler has an incredible story of resilience that has allowed Gigi's Cafe to be the Gigi's Cafe that we know and love. When you meet the people who work there, you know you are at a place that is truly a special place to dine.  
Another aspect that makes this cafe unique is how employee-driven they are. They have decided to eliminate tips and instead integrate this into the cost of the actual meal. Their reasoning is it reflects the true cost of eating at Gigi's. "It allows us to provide livable wages, health care, matching IRA savings, paid vacations, profit-sharing, and more benefits than we can list here to our staff."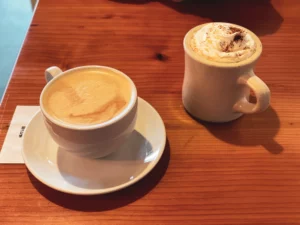 Now, on to the food and drinks. 
To drink, I chose a honey latte to keep things simple and caffeinated. Nothing fancy about it, it is just some nice coffee with a subtle honey taste. My friend got their hot apple cider with whipped cream. It instantly brought her back to the fall, which for a rainy Portland morning, felt fitting.
To eat, I had to get what they are famous for: waffles! When they were just a food cart, that is all they served, so I had a feeling they would be a next-level creation. I decided to be a bit more adventurous than usual and got the Milk and Honey waffle. This masterpiece is made up of a Liege waffle topped with chevre mousse, balsamic caramel sauce, and toasted pistachios. It was a great balance of sweet from the waffle and caramel sauce and savory from the chevre and pistachios. While I did thoroughly enjoy it, I want to try a different waffle concoction next time to work my way through their delectable menu.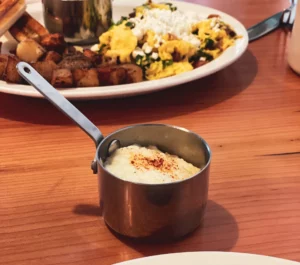 I also opted for a side of the creamy herbed polenta as I am a sucker for good cheesy grits. I was fully convinced to order them when our server, who is from the South, said he eats them regularly because they are just that excellent. And as he said, he knows good grits from bad. The grits are prepared with four different types of cheeses blended to perfection. I definitely could have eaten a massive bowl, but I am guessing my stomach would not be thrilled with that choice. 
My roommate went the savory route and got an ABC Scramble, which includes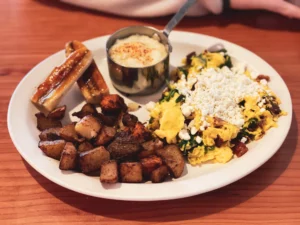 three scrambled eggs with arugula, bacon, and chevre. For her sides, she picked the creamy herbed polenta, salt and pepper potato medley, and a brûléed banana. They portioned the sides perfectly, enough to really enjoy them but not too much where you leave feeling too full. My roommate was worried her eyes would be bigger than her stomach, but due to the appropriately portioned dishes, she was able to finish it all. The brûléed banana was the star of the show. Such simple ingredients were flawlessly assembled to create the most delicious sweet bite.
I cannot wait to go back to Gigi's Cafe. There are so many more menu items I am dying to try, such as Nikki's Waffle and the Chicken and Waffle.