A classic diner feel with a delectable menu selection at the Mont in the heart of SE Portland.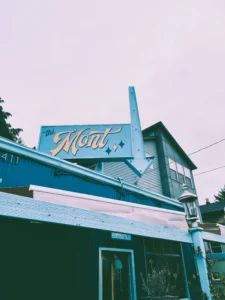 When your best friend texts you a few months back saying she just had the best brunch in Portland and you finally have a free Sunday, you have to go. That is what brought me and three friends to The Mont.  
It is owned by Emily George, who stepped away from being the manager at SeeSee Motors after eight years to open The Mont. It is a fairly new venture for George, having just opened in September 2020.  
The Mont is a quaint little eatery on SE Belmont, nestled between apartments and townhomes. Painted bright blue with a massive sign pointing you to it, it is very hard to miss. We placed our name on the notepad at the front counter and went outside to sit and wait. Be warned: there is not a lot of space to wait inside, so you will have to wait outside. On a nice day like it was Sunday, this was not a problem. However, with the Portland rain, come prepared. We ended up waiting about 40 minutes, which is typically longer than I would like to wait for a table, but it was so worth it.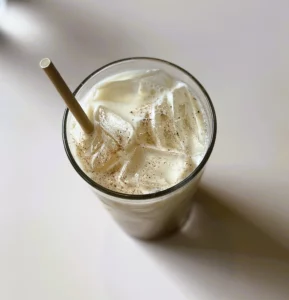 They only have a handful of booths and tables inside, but have plenty of outdoor seating out in the back. However, we still opted for a booth inside the restaurant. Their aesthetic is a little bit retro, a little bit funky, and very colorful.  
We started with drinks, with one of us getting a black coffee and the rest ordering an iced chai. Something to note about their drink selection: it's fairly small and they do not have an espresso machine. So, it is black coffee or bust! The iced chai (only available as an iced drink) was delicious. The concentrate was a perfect blend of sweet and spicy chai. I finished it before the food had even arrived!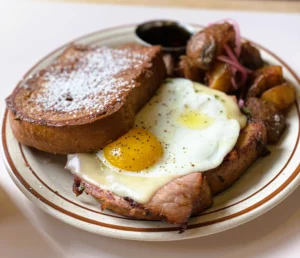 To eat, we were all feeling savory. I ordered the chicken and waffles, which is buttermilk battered and fried chicken served atop a Belgium waffle. It is served with their house whipped cream and cinnaMONT syrup. It was a good balance of sweet and savory, with the sweet coming from the waffle, syrup, and whipped cream and the savory from the fried chicken. The fried chicken was perfectly cooked, with a crispy exterior and a moist interior, exactly what you want in fried chicken.
Two of my friends ordered the Mont De Cristo, which is your classic sandwich, but "Mont-ified." They serve it with ham, Swiss cheese, a sunny-side-up egg, and, of course, cinnaMONT syrup on thickly cut challah French toast. On the side, they opted for fried potatoes instead of salad. If you order this, come hungry. It is a beast of a sandwich.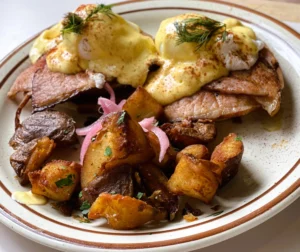 My other friend, an eggs Benedict aficionado, ordered their classic Benedict. It is exactly what you are expecting: smoked ham, two soft poached eggs, and a smothering of house-made hollandaise on an English muffin. Between the eggs oozing, crispy ham, and on-point hollandaise sauce, she thoroughly enjoyed it.
When the time came to pay the bill, our server brought us four separate checks with our respective orders, unprompted. I am not sure if this is always a thing at The Mont, or if we just got lucky, but we definitely appreciated not having to think about how to split the bill.  
I am glad to have checked The Mont off of my brunch bucket list, but will definitely be going back. The Challah bread French toast is calling my name!