Elevated Classic Italian Sandwiches at Grazie Grazie in Washington D.C's the Wharf.
If you're seeking a fast-casual bite to eat at the Wharf, Grazie Grazie is an excellent option for classic Italian sandwiches, salads, and more! The Wharf is a wonderful area of Washington, D.C. that is waterfront and close to the National Mall. It's an awesome place to visit, but many of the restaurants are upscale and expensive. Grazie Grazie is the perfect solution! They offer delicious eats that are easy to eat in the restaurant or take to-go to eat on the nearby pier.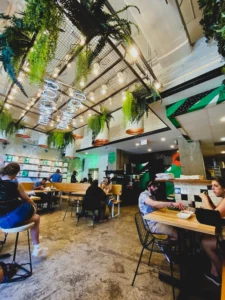 Grazie Grazie welcomes customers with a fun, colorful neon sign and some patio seating. As you enter the restaurant, you are immediately drawn to the beautiful greenery hanging from the ceiling. They also have an indoor neon sign that reads "Thank You Thank You," the translation of the restaurant's name from Italian to English. The menu is listed on the wall for you to peruse before you place your order with the cashier. Upon looking at the menu, my friend and I landed on the Marathon and a build-your-own Philly cheesesteak for our lunchtime meal. 
We took our seats as we waited for our order and took in the unique artwork in the restaurant. The wallpaper depicts retro toy advertisements and other fun memorabilia, so it was cool to look at. Our food was ready in no time, and we were so excited to dig in! My Marathon sandwich was house-roasted all-natural herb turkey, fresh mozzarella, prosciutto, basil pesto, Ito, extra virgin olive oil, and their house seasoning. This sandwich was amazing! It was a hot summer day, and this Italian sandwich was so light and refreshing. All the ingredients tasted fresh and were full of flavor.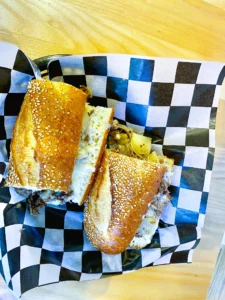 My friend decided to build their own Philly cheesesteak. They opted to go with a classic grass-fed shaved ribeye for the base and added Duke's Mayo, American cheese, onions, and peppers. While not a true Philly cheesesteak, it was a great take on it. My friend said they were definitely going to order it again. For a sweet treat, we ordered a cannoli to share. It was the ideal end to the meal! 
This was not my first time at Grazie Grazie, so I've had the pleasure of trying out some of their other menu items. I really enjoyed the Amore Park salad that I got last time, and I consider the risotto balls a must-order! With such a great selection of sandwiches, salads, and sides, I think it's hard to go wrong. 
Overall, the service was very quick, and the food was tasty. I would recommend heading to Grazie Grazie if you're looking for something fast and lower cost while visiting the Wharf. It would also be a great spot for a weekday or weekend lunch! They even offer catering, which would be great for your next office lunch and learn event. Next time you're in the area and are craving an Italian sandwich, definitely check out this fantastic spot.