A hidden Cuban oasis in Washington, D.C.'s West End neighborhood only at Casta's Rum Bar.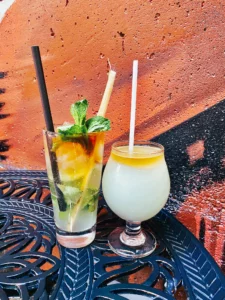 I pass Casta's Rum Bar each day on my commute to and from work. Because the front of their bar and restaurant is so unassuming, I figured it was a tiny hole-in-the-wall bar with just a few stools. The entrance is marked with a large sign, but it's nestled under a building and partially obscured by a large hedge. However, when I got invited to a happy hour there, I did not pass the chance to explore this curious spot.  
Casta's Rum Bar is anything but a tiny hole in the wall! They have several massive seating areas, including a large, covered patio with plenty of space to eat, drink, and even dance! We made a reservation easily on OpenTable, but when we arrived, there were plenty of tables, so it may be a place where you can grab a seat as a walk-in with ease. 
We moved through the large indoor room to a high top on the patio, which is filled with light, plants, and Cuban-themed art. The vibes in the restaurant are so cool, and at night, the inside turns into a dance floor, complete with a DJ, where you can dance with a mojito in hand.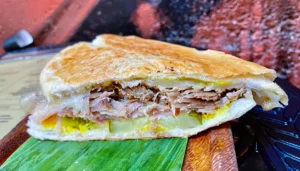 We loved sitting on the covered patio. Although it was a hot day, we had shade and it was cool in this back area. To start, we ordered a classic mojito with rum, mint, lime, and soda as well as a frozen daiquiri with rum, lime, and sugar. These drinks were incredible! They were exactly what we needed to cool off on a hot day before ordering our food. Casta's offers a huge selection of rums for you to choose from, and the servers and bartenders are well versed in their rum list for any questions you may have! 
To eat, we ordered some classic Cuban fare. We got the Cuban sandwich and pork empanadas, as well as Cuban bread with yellow mustard, roasted pork, glazed ham, Swiss cheese, and pickles. Both dishes were served with a light side salad. We also got an order of yuca frita, which are cassava fries served with a dipping sauce. The yuca fries were perfectly fried; they were crunchy but not overcooked. Casta's did a fantastic job on these Cuban cuisine staples. We loved every bite of each food item! In particular, the Cuban sandwich was incredible with the perfect combination of flavors.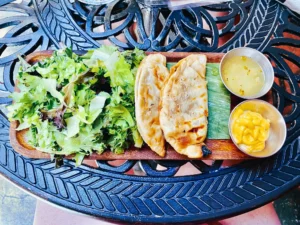 Rather than dessert, we opted for a second round of drinks since there were so many incredible rum-based cocktails for us to choose from! We ordered El Presidente, which had aged rum, Lilet, grenadine, and bitters. We also got the saoco with aged rum, lime, coconut water, and soda. The saoco was amazing! It was light, refreshing, and had a hint of lime and coconut; it may be one of my new go-to summer drinks. 
Service throughout our entire visit was great. Our server was attentive, although busy, and so knowledgeable about the rum list and food menu. Drinks and food all came out quickly and were of exceptional quality all around. 
If you're in the West End neighborhood, you should absolutely check out Casta's Rum Bar. They serve brunch and have a good happy hour during the week. There is plenty of space in the restaurant for large or small groups, so it's ideal for a fun date or even a work happy hour. This restaurant is very versatile and is a must-do if you like Cuban food and drinks!