Henley combines a southern soul and French technique.
Although I pass Henley all the time, I knew little about it and had never thought to stop in before. When my boyfriend told me that he made reservations here for dinner, I could tell that I was in for a treat as soon as I looked at the menu. Henley offers sophisticated, creative, yet approachable French-Southern cuisine during their dinner, weekday breakfast, weekend brunch, and happy hour. The offerings are hyper-seasonal, as the chef incorporates the same in-season ingredients into multiple dishes.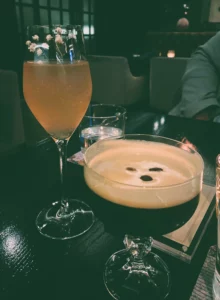 Situated inside of the Kimpton Aertson Hotel, Henley is located in Midtown near Vanderbilt University. A large, gorgeous marble bar sits in the middle of the restaurant, and the ambiance inside is romantic and dark — perfect for date night. There are also a few small tables on an outdoor patio. When we arrived for our reservation, the hostess checked on our table and informed us that they were short on waitstaff, but assured us that our waiter was the best around. Sure enough, we saw only two waitstaff that night, yet the service we received from our waiter was flawless.
The worst part about dining at Henley, by far, is deciding which drinks and dishes to order. The cocktail program is so fantastic that I found myself relieved that the beer and wine selection is relatively unimpressive. Each drink is exciting, with the head bartender making use of ingredients such as white peppercorn, balsamic, and banana. We opted to try the espresso martini and the Call Me If You Get Lost, a prosecco and Italicus cocktail. The espresso martini was clearly made with high-quality espresso, and both drinks with impeccably balanced; neither was overly sweet, and none of the elements overpowered the others. There were a number of other cocktails that sounded equally enticing.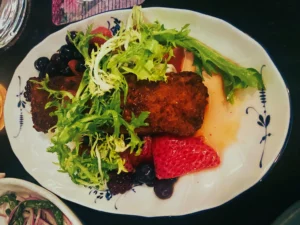 Likewise, the dinner menu offers so many intriguing dishes that we agonized over what to order during this visit or save for another time. Exemplifying Henley's fusion of Southern and French cuisine, we began with the Southern fried brie. Because it is nearly impossible to go wrong with fried cheese, I have encountered a number of comparable restaurants in Nashville that put little effort into these dishes, and basically offering a glorified mozzarella stick. However, Henley's is thoughtfully accompanied by pickled berries and frisée, with the berries complexifying the flavors of the dish and the frisée nicely cutting the richness of the brie.
For the salad course, we tried the frisèe and grilled haricot verts, which is ideal for those who typically opt for a cooked vegetable side instead of a salad. This included charred and chilled green beans and multicolor potatoes tossed in a light crème fraîche. Grilling the beans added depth to the dish, and it was well-executed. We also got a side of the fingerling frites, which were tossed in a wheatgrass pesto and topped with chèvre. The flavor combinations worked well, and the portion was generous.
For our main, we ordered the confit chicken and dumplings, which sounded so interesting that we had to give it a try. It is essentially a reconstructed, rather than deconstructed, version of chicken and dumplings. A large chicken piece sits atop cornmeal gnocchi, peas, heirloom carrots, and onions, with a layer of chicken jus underneath. The chicken was juicy and cooked perfectly, and the carrots were bursting with flavor. While I appreciate handmade pasta and love the idea of cornmeal gnocchi, it tasted completely unseasoned, which makes it even more difficult to eat something very dense. The jus also could have used more salt, and the peas were slightly dry. With just a few tweaks, this dish would have been flawless.
Given how great everything had been, we had no choice but to order dessert. We shared a slice of the devil's food cake, which contained multiple layers of chocolate cake, malted chocolate buttercream, and coffee ganache, complete with large rye crumbles. Our waiter had wonderful things to say about the pastry chef, so make sure not to skip dessert here.
At every turn, Henley exudes thoughtfulness and creativity. The inclusion of certain ingredients in multiple plates, such as the frisée and new potatoes, ties individual dishes together and creates continuity. The flavors in both the cocktails and food are unconventional yet approachable, and the ambiance and service are on point. I look forward to returning in order to sample more of the menu.