Sadie's – "an all day cafe, a casual fine dining experience offering American Mediterranean cuisine in a hip environment."
Sadie's is a relatively new restaurant that opened up about six months ago. Located in the Edgehill neighborhood, it replaced a beloved Mexican restaurant, Taco Mamacita, that relocated during the pandemic. It had a huge outdoor patio and was perfectly located in a quiet area with a handful of shops and restaurants. When the old restaurant closed, I kept saying that I hoped a great restaurant would open in its place because the space is so large and centrally located near Vanderbilt University. As soon as Sadie's opened, I knew I had to give it a try.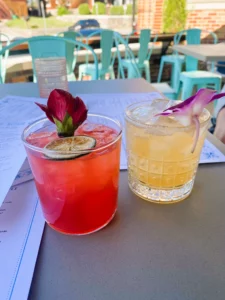 Sadie's describes its cuisine as "American fare influenced by Mediterranean flavors" and boasts lunch, dinner, happy hour, and even a weekend brunch. My boyfriend and I opted to have an early dinner so that we could try out their happy hour. We arrived at about 4:30 p.m. and were told that happy hour was available on the patio, which worked out well since the weather was warm and sunny.
The interior of the restaurant is visually stunning: it's bright and airy, complete with neutral and pastel tones that nicely complement the rustic exposed brick and industrial-chic, eclectic lighting fixtures. Their water glasses are even translucent pink and textured with dots, and the dishware is speckled clay. Sadie's has a giant patio with bar-style seating and many tables, as well as multiple overhead heaters in case it gets cold. We were quickly seated, given menus, and told that only a few small plates were available before 5 p.m. During happy hour from 4 p.m. to 6 p.m., cocktails are half price ($6.50 each) and select wine and beer are discounted.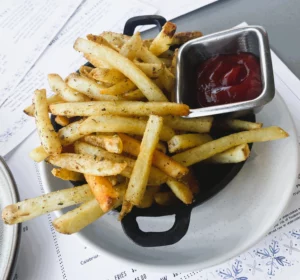 To start, we ordered the Greek fries to eat and the Kali Mera Sour and the Isle of Passion to drink. The fries were crispy and well-seasoned with lots of Greek herbs, and they perfectly went with our sweet, chilled cocktails. The Kali Mera Sour is essentially a spiced pear whiskey sour, and the Isle of Passion is a passionfruit mule. Both drinks were balanced and tasted great, as well as garnished with fresh flowers. At just $6.50, I highly recommend coming in for happy hour.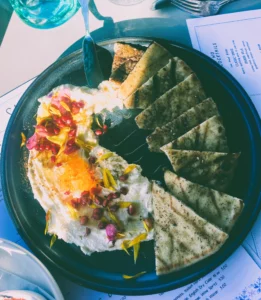 Once 5 p.m. rolled around, we also ordered whipped feta and Slovaki chicken kebab. The large portion of feta had pomegranate seeds, flowers, honeycomb, and peppercorns strewn throughout and was accompanied by pita bread points. The whipped feta was fantastic, but it tasted as if salt was added which is not really necessary as feta is already quite salty. Although I appreciate that the pita was heavily seasoned, I was not a fan of how salty it was. Luckily, the swirl of honey pleasantly cut through all the salt.
The chicken kebab was plated atop a bed of basmati rice and served with more pita and a trio of sauces, including hummus, red pepper dip, and tzatziki. The chicken pieces were juicy and, like all the other food, well-seasoned. The rice also had a touch of sweetness from a seasoning blend that included cinnamon. The hummus was one of the best I've had in the United States, and the tzatziki was rather good too. Although it was just one kebab skewer, the portion was generous given all its accompaniments.
Overall, Sadie's offers quality ambiance, food, and drinks. You won't want to miss out on the cocktails (and they have mocktails too!), so I recommend coming by during happy hour.
Each of the dishes was flavorful and ideal to split, which is definitely the way to go so that you can try a number of their delightful small plates. I'll be back to try brunch soon!