An authentic dining experience at Kabobi Persian and Mediterranean Grill.
You will be transported when you dine at Kabobi Grill. The overall ambiance will make you feel like you are dining in the Mediterranean. The Kabobi Grill menu features an extensive selection of beef, chicken, lamb, and seafood choices as well as tons of vegetarian options.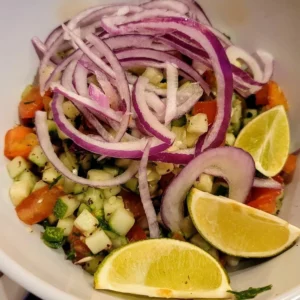 Begin your meal by ordering a few appetizers, such as the fresh, warm pita bread with a generous dollop of hummus or a side of falafel. You could also go for the Persian salad, which features succulent tomatoes and cucumbers topped with extra virgin olive oil and lemon. The traditional Ash Reshteh Soup with lentils, chickpea beans, noodles, and spinach is a Persian specialty that is flavorful and delicious.
Decisions, decisions, decisions! Now, the hard part is selecting which entrée you want. No matter what you choose, it's all fabulous and plentiful with more than enough to take home. All the kabob dishes are accompanied by heaps of basmati rice and vegetables.
My recommendation, and go-to-choice, is always the salmon kabob. Prepare for a feast, this dish features a 12-ounce filet of seasoned Atlantic salmon that has been cooked to perfection and smothered with basmati rice and an assortment of veggies. For those who prefer whitefish, you won't believe your eyes when the dish is set down before you. A giant portion of whitefish, hummus, and Persian salad will definitely not leave you hungry. Another popular entrée is saffron butter chicken, which is braised in a yogurt cream sauce.
To add some sizzle to your meal, try one of their signature sauces like their roasted red pepper tahini, Mediterranean tarator, or garlic sauce.
Kabobi also offers several family packages, which means you can feed your group of four or more people and save a little money while doing so.
After your divine dinner is over and you're savoring the meal, you'll get a complimentary glass of hot tea and numerous pastries. It's the perfect end to an outstanding meal.
Their tasty desserts include authentic roasted hazelnuts and caramel halva, baklava, and Persian ice cream. They also have more traditional options like their five-layer chocolate cake, Belgian chocolate mousse, and or key lime pie.
You can even top it all off with a cup of authentic Turkish coffee, and you'll feel right at home.
No matter what you order, you'll be treated like family here because this is a family-owned and operated restaurant. They genuinely care about attention to detail, quality service, and superb food, so they make every effort to ensure that your entire experience is flawless. For those who are guests of Kabobi Grill, you'll enjoy an abundance of true Persian hospitality.