Kith Treats combines the wonder of cereal and ice cream to form magical treats.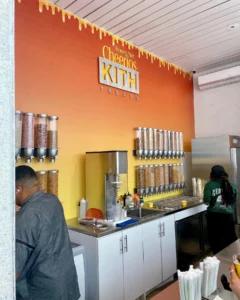 I'd been dying to try Kith Treats after seeing it all over my Instagram feed, so I jumped at the chance to go while on vacation in Miami. Upon arriving, there was a line out the door going down the street, so I knew we had arrived at the right spot. Once we made it inside the shop, we were immersed in their Honey Nut Cheerio collaboration, complete with various decorations, merch, and a menu posted on the wall. This collab was for National Cereal Day on Monday, March 7, 2022. According to the menu, it featured "confections inspired by indulgences from around the world." This is evident in the ice cream swirls' ingredients, such as baklava from Turkey in "The Honey Nut" and macapuno from the Philippines in "The Coco Classic." The crowd was of all ages, and I heard several people in line talking about how they came solely to try the flavors from the collab with Honey Nut Cheerios. To be honest, I was not even aware of this collaboration before arriving.
Kith Treats is the brainchild of Ronnie Fieg, who, according to their website, dreamed of opening a cereal bar. A concept that took twenty years to refine, it launched in 2015, and now has locations in Brooklyn, Manhattan, Miami, Hawaii, Toyko, Paris, and Los Angeles. Another unique aspect, "Since Kith is built on the concept of 'kith and kin,' or friends and family, each Treats location features a menu of rotating specials created by friends and family of the brand, including NFL player Victor Cruz, rapper Action Bronson, fashion designer Virgil Abloh, artist Daniel Arsham and graffiti legend Futura."
We ordered "The Honey Nut" ice cream swirl, which was topped with baklava, Honey Nut Cheerios, crushed pistachios, and Maldon sea salt. I am a sucker for cereal milk ice cream, so Kith Treats is ice cream heaven to me even without all the delicious toppings. Anyways, this flavor was really tasty! There was an excellent contrast between the sweet ice cream and the salty toppings of the crushed pistachios and sea salt. I love a good sweet-to-salt ratio, so my palette truly appreciated this treat.
We also ordered "The Coco Classic" ice cream swirl, which was topped with coconut macaroons, classic Cheerios, macapuno (coconut strings), and a condensed milk drizzle. The base was a non-dairy coconut milk vanilla ice cream. The flavoring of this one was extremely unique, but not exactly my desired taste preference. Also, the toppings did not do it for me as they were a bit too sweet, but I am glad I at least gave it a try. The Kith Treats chocolate bars in every ice cream swirl are an excellent touch, and it is honestly some of the best chocolate I have ever had — and I'm not a big chocolate eater.
The staff is incredibly friendly and patient, and even helped me in choosing the two flavors I finally decided on. I shared with them that I have a food blog, and they asked me about it and made sure I got the picture-perfect shot before I left. Oddly enough, as soon as we got our ice creams and went outside, it started pouring; that's Miami weather for you! Despite the gloomy and rainy weather, the line was still waiting outside in the rain. The ambiance of this place is super trendy, photogenic, and aesthetically pleasing. Yes, the ice creams are beautifully prepared in a photogenic manner, but their merch and the way they decorated the counter with Honey Nut Cheerio decorations were also super chic and clean. I will definitely be checking out the L.A. Kith Treats to try out their traditional flavors.