Mamey offers delicious "island-minded", farm-to-table fare.
Mamey is a relatively new restaurant situated in Coral Gables within the Thesis Hotel. Niven Patel, who was named one of Food & Wine magazine's 2020 "Best New Chefs," has added this tropical-inspired restaurant to his collection. He also owns Orno, which is also located in the Thesis Hotel, as well as Ghee and Erba.
So, what makes Mamey special? It offers organic fruits, vegetables, and herbs from Rancho Patel, Nivel's two-acre farm in Homestead. A lot of the produce that he grows is incorporated into his dishes and his wonderful and fun signature cocktails.
The decor at Mamey is a relaxed, sweet haven with a very hip, comfortable Miamian feel. The ambiance is casual with a retro 1950s style and a backdrop of green plants and colorful, playful flamingo-inspired wallpaper. They also have a ground-floor outside area, as well as a third-floor bar and patio, which offer twinkling lights and views — perfect for cocktails. In true Miamian fashion, they offer a happy hour that runs daily from 3-6 p.m.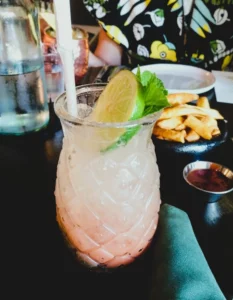 I sampled one of their recommended specialty cocktails: the guava mojito. It was beautifully presented in a pretty pineapple-shaped glass and included Bacardi rum, Redlands guava, and lime. As well as being very visually appealing, it tasted delicious with a refreshing kick.
The appetizers I sampled with my two friends were the spiced fries, which came with a homemade mango ketchup dipping sauce, and the tuna tostones, which came with a tomato sofrito, Piquillo pepper aioli, and slivers of scallion. For mains, we tried the lemongrass glazed grouper, which came with bok choy, carrots, bamboo rice, and a pleasantly creamy coconut curry sauce. We also got the pork belly sandwich and side salad. The dessert we decadently and naughtily shared was the Jamaican rum cake served with a yummy toffee sauce and vanilla ice cream.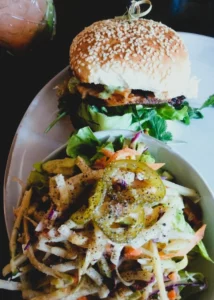 The service at Mamey was pleasant, and our server demonstrated a genuine passion for his job, knowing everything there was to know about each dish and cocktail on the menu. He explained everything in such detail that caused me to want to sample everything. Next time (and there will be a next time), I want to try another signature cocktail called the Jerk Margarita. It sounds fascinating and surely packs a punch with the following ingredients: Maestro Dobel, 400 Conejos Mezcal, strawberry, watermelon, jerk spiced agave, and lime. I am planning to team this with their Bahamian Conch Fritters, which promises to come with a cilantro sauce and habanero, or maybe one of their lighter dishes of kohlrabi and green papaya salad, which comes with peanuts, Thai basil, and sesame dressing. Or maybe both!
To sum up my time at Mamey, only three words are required: I LOVED EVERYTHING.