Mamahuhu has us falling in love with Chinese flavors.
Growing up in a traditional Chinese household, I've always wanted to try foods from other cultures and cuisines since my parents cooked Chinese food almost every day. Gradually, I got sick of Chinese food and ignored all the Chinese restaurants I'd walk by. However, Mamahuhu, a Chinese-American restaurant located on Clement Street in San Francisco, made me fall back in love with Chinese flavors.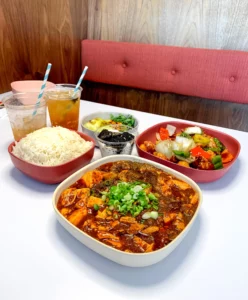 I was initially drawn to their modern exterior and interior, which featured orange seats, green accents, and large windows, giving off an earthy vibe. I love that the aesthetic of the restaurant fits their brand of sustainability and comfort. The staff was super welcoming and eager to answer all the questions I had about their menu.
Being an indecisive person when it comes to food, one thing I really love about their menu is that it's quite minimal. All of their menu items fit on one page and it's incredibly easy to read as it's well organized and not overwhelming. They even have lots of vegetarian and gluten-free options. I ordered their sweet and sour cauliflower (which can be substituted with chicken), mapo tofu with pork (which can be substituted with mushroom), jasmine rice, and cold sesame noodles. For dessert, I tried their Yin Yang Parfait and Chinese almond cookies. Their house soda drinks sounded particularly unique, so of course I had to try both the snow jasmine tea soda and red tea cola.
We started off with the snow jasmine tea soda, which includes organic jasmine tea and organic cane sugar, as well as the red tea cola, which includes Wild Tree Yunnan Red tea, organic cane sugar, ginger, star anise, and other spices. The cold organic jasmine tea was exceptionally refreshing and aromatic; I recommend this one if you want something more simple. The red tea cola was nothing like I've ever tasted before, yet the individual flavors were nostalgic. I could taste the star anise, but that flavor combined with the Wild Tree Yunnan Red tea and other spices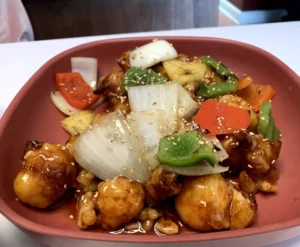 created a truly unique flavor. It had hints of licorice and sugar cane.
Our first house special, the sweet and sour cauliflower, is made with "crispy rice-battered chicken (or cauliflower), pineapple and peppers, honey and hawthorn." The cauliflower was perfectly cooked, breaded, and covered in a delicious sweet and sour sauce. This dish is packed with yummy veggies, such as crunchy bell pepper and onion. There were also some pineapple chunks that added a bit of tartness. I ate this with their side of cold sesame noodles, which is topped with peanuts. This dish sounds simple, but the flavors were amazing.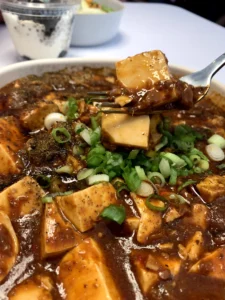 The mapo tofu with pork is a combination of ground pork (or organic shiitake), doubanjiang, fermented chili, and Sichuan peppercorn. Mapo tofu is a popular traditional Chinese dish from the Sichuan Province; Sichuan is known for their iconic spicy dishes, and I grew up eating mapo tofu with Sichuan peppercorn. If you've never tried Sichuan peppercorn before, it is a Chinese spice that's well known for the numbing sensation it causes in your mouth. The spice initially tastes spicy, but then a citrus aroma and flavor hits you, along with the numbing sensation! This dish definitely used Sichuan peppercorn right, as it was a good level of spiciness based on my spice tolerance. It wasn't overly spicy to the point where I could not taste the flavor of the ground pork. I ate this with their side of jasmine rice. This dish reminded me of my childhood.
Seeing their Yin Yang Parfait' on the menu really intrigued me because I was curious about its name. It was served in a small cup with layers of black banana cake, coconut tapioca, and organic white sesame cream. Surprisingly, this was one of my favorite food items from here. The banana flavor was fresh and natural, and the light coconut flavors contrasted it beautifully. The dessert was very light, and after finishing it, I was left wanting more! They also sell small boxes of Chinese almond cookies, which are made with Marcona almond, almond flour, wheat flour, butter, organic egg, organic cane sugar, salt, and rice bran oil. These were absolutely delicious and crumbly, and the size was ideal for a bite-sized, on-the-go snack. These cookies reminded me of the almond cookies I used to get at a Chinese supermarket.
I recommend checking this place out if you're craving some Chinese takeout and missing those traditional, authentic Chinese flavors that remind you of home. Overall, I would definitely visit Mamahuhu again to try everything else on their menu.