Maika'i Hawaiian BBQ is serving up authentic Hawaiian cuisine to the people of Texas.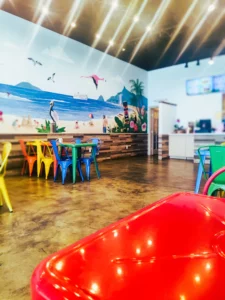 I actually hadn't intended to eat here and had another place in mind, but when I went to check out the tea shop next door, I could smell Maika'i Hawaiian BBQ from outside. When it comes to food, it doesn't take much to make me crave something, so that smell won me over immediately.
Maika'i Hawaiian BBQ is adorable, homey, and looks like I just stepped into a shop near the beach. The giant beach-themed mural instantly caught my eye, as did the brightly colored tables and chairs. It's a bright and sunny store that is reminiscent of a fun day in the sand, but with delicious food.
They have a lengthy menu with many different appetizers and protein types for their entrées, which I appreciated. They have chicken, beef, fish, and vegetarian options, all in various sizes.
Often, places will serve giant servings of food that I can't finish in one sitting, and especially when trying out a new place, I didn't want to buy something huge and end up not liking it. So, I wanted to try something smaller, and luckily, they have a "mini" option, which turns out, isn't so mini! But, it was the right size for me. I can't believe it was only $8 for all the food I got, and the full version was only a few dollars more!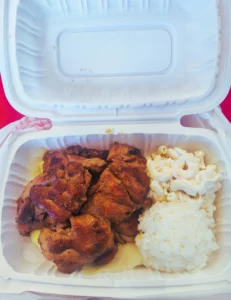 I asked the man behind the counter what the difference was, and he said it had one less scoop of rice and a smaller portion of meat. Honestly, there was so much rice and meat in this that I can't imagine what the full portion is, but I would happily eat it. It was so good! Because I ordered to-go, my Hawaiian BBQ sauce came in a separate little cup on the side and the food came in a very sturdy microwavable paper take-out box.
Right before I poured the Hawaiian BBQ on my food, I also tried it on its own first. It wasn't what I was expecting; it tasted like a mix of ponzu and teriyaki sauce, both of which I enjoy. It was great on the chicken, which came in thick, soft chunks. The order also came with a big ball of fluffy white rice and a whopping scoop of pasta salad, which, oddly enough, was my favorite part of that meal. To me, it felt like it was a mix of pasta salad and macaroni and cheese — who wouldn't love that?
The "mini" version had so much food that I split it into two meals, but it could be finished in one meal if you are feeling particularly hungry. Of course, it turns out I should have bought a bigger version because the food was delicious and I wish I had more leftovers.
But that just means I'll be coming back! Maika'i Hawaiian BBQ has a reward system, which I signed up for. With my purchase that day, I got a coupon via a text for three free crab rangoons, so I'll definitely be back soon.