Thai Bistro serves up creative and classic Thai cuisine.
With two location in Houston, Thai Bistro has become a well-known and popular dining establishment. Thai Bistro boasts a menu with Thai curries, noodle dishes, and fried rice. This restaurant has received honorable publicity for popular dishes, such as their Basil Inferno and Penang Curry. They were also voted as one of Houston's top three Thai restaurants in recent years — more than once. Thai Bistro has even won the attention of Robb Walsh, who included it in his list of "100 Favorite Houston Dishes." Thai Bistro is open seven days a week with a split on Monday through Thursday. While it tends to be quieter during the day, dinner time can be busy.
Thai Bistro is a presentable restaurant from the outside. "THAI BISTRO" is proudly displayed in bold letters that catch customers' eyes. Once patrons walk inside, they may notice a lovely aroma of Thai cuisine in the air. The interior is small but inviting. With two floors, it is not a wide-set restaurant but it is tall with high ceilings. Thai Bistro is suitable for people of all ages and has a pleasant atmosphere for small groups and couples. The aroma of Thai cooking is an especially big hit for people walking in at dinner time.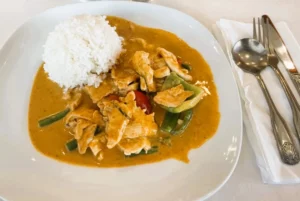 I ordered a lunch portion of Penang Curry on my last visit to Thai Bistro at the West University location. I got mine with chicken and requested it medium spicy for a little extra heat to go with the meal's sweetness. My dish was unbelievably delicious and very fresh with plenty of gravy, spices, and chicken pieces. The gravy in this curry was thick, sweet, and spicy with just the right amount of bell peppers and coconut milk. The chicken was particularly tender, and the accompanying rice was sticky, fresh, and subtly spiced for that extra flavor. The portion size was generous and filling. I also found it interesting that the curry was mixed with the rice in the lunch order, as opposed to most places, which serve them separately. I found this beneficial for a lunch portion. The flavors in the meal order were well-balanced, with nothing being overly sweet, spicy, or salty. It was a very comforting meal to satisfy a craving for an experienced Thai food fanatic.
The service was excellent, efficient, and hospitable during my visit. The food came out in a timely manner and the server was truly attentive. The employees are hardworking and show a lot of class to their customers. There is genuine hospitality when coming to this restaurant. The staff is also great for questions on menu items, allergies, and hours of operation. The prices are fair, and the meal portions are large and filling. I've been impressed with both visits I've made to this location. Each was consistent in both food and experience.
Thai Bistro is already in my regular rotation of places to dine at, so I will surely be back soon.