Mee Dee Thai is serving up classic Thai dishes in the heart of NE Portland.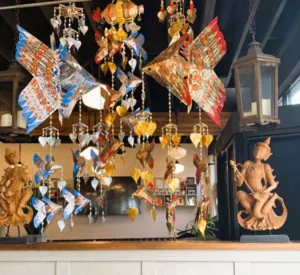 On the busy crossroads of Killingsworth and Greeley sits a building with a curved brick and glass front. It is home to two restaurants. On the left is a sushi place and on the right is Mee Dee Thai. I love Thai food, and, even though it is in my neighborhood, I hadn't eaten there yet. One rainy day when I was coming home from running errands I decided to fix that.
Immediately upon entering Mee Dee Thai, I saw a bright and colorful sign highlighting their extensive milk tea menu. They have a variety of flavors and toppings including boba, fruit-flavored popping boba, and brown sugar and fruit jellies. They boast vegan options too. Their main menu has a variety of soups, salads, curries, noodle dishes, rice dishes, stir fries, and specials to choose from. I was also happy to see that they had a lunch special: $2 off on most dishes.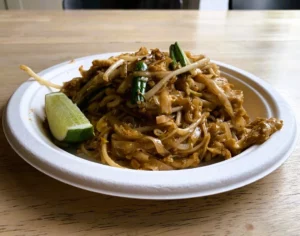 I walked up to the counter and ordered a pad Thai with chicken — my go-to when at a new Thai place — and a Thai iced tea with boba. The woman taking my order was quick and friendly and directed me to sit wherever I liked. The space was airy and open with tons of natural light coming in from the many windows looking out onto the street. There were only a few other people there eating an early lunch in the middle of the week. Several people came in to pick up takeout orders too.
My order came out lightning fast. I was a bit surprised that my pad Thai was served on a paper plate, but I was happy my Thai iced tea was in a to-go cup in case I wasn't finished with it before it was time to leave.
No matter how it was presented, Mee Dee Thai's pad Thai was one of the better ones I've had in a long time. The noodles were perfectly cooked, the portion was just right for lunch, and the chicken had a grilled, almost smokey flavor, which I loved. My Thai iced tea, on the other hand, was not as I had expected. The tea itself tasted just like what I was hoping for, but the boba were clumping together. This made them difficult to come up through my straw, and they were a bit of an unpleasant texture.
Overall, I really enjoyed my experience at Mee Dee Thai. The service was quick and the food was delicious. The restaurant itself is a well-decorated space to eat in, and they are a popular takeout spot too. I'm definitely going to add Mee Dee Thai to my North Portland Thai food rotation.