The search for the best mac and cheese in Portland brought me to Brix.
I am on the hunt for the best mac and cheese in Portland. Mac and cheese has always been one of my favorite dishes since childhood; something about a cheesy bowl of Kraft Macaroni & Cheese and Ball Park hot dogs still brings me great joy. These are high standards to live up to, so when a restaurant puts mac and cheese on their menu, I expect nothing short of incredible. The sauce has to be cheesy, melty, and smooth — no graininess allowed. The noodles should be cooked just right, and the overall flavor has to be cheese-packed and delicious. So to begin my hunt for the best mac and cheese in Portland, I did some important market research. I posted on my Instagram story and inquired to the masses.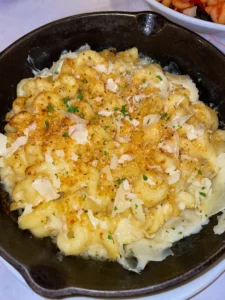 I got several responses and looked up a picture of every mac that was hailed as the best. They all looked incredible, but one in particular caught my eye, and that was the dish served at Brix Tavern on NW Hoyt Street. The curly noodles with the grooves made it stand out above the rest. They have two versions available at Brix Tavern, the Bacon Mac & Cheese with caramelized onions, parmesan, and bread crumbs, and the Truffle Mac & Cheese with a truffle emulsion and parmesan bread crumbs.
I went for the truffle mac. Truffle is a phenomenal flavor, especially when paired with something cheesy. It was in fact delicious. The noodles were cooked to perfection, the dish was cheesy, and the truffle flavor gave it a special quality. Frankly, it's a whole other league than Kraft Macaroni & Cheese, so I could not compare the two. I am not sure if it is the best mac and cheese in Portland, but it definitely ranks high and is worth a try if you ever find your way to Brix Tavern.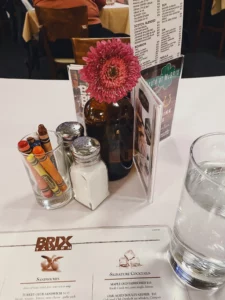 The restaurant itself is also great. They have all the good stuff: happy hour, $11 bottomless mimosas on the weekends, dart boards, giant TVs, and my personal favorite, crayons with paper laid over the table cloths to draw on. While waiting for our food, we played several rousing games of tic-tac-toe.
The happy hour is fantastic, and probably one of the best in Portland for its huge variety of options. You can even get the bacon mac and cheese for $8. Their happy hour menu runs from 3 p.m.-6 p.m. every day, 9:30 p.m. to close on Tuesday-Saturday, and 3 p.m. to close on Sundays and Mondays.
Their brunch is also a Portland staple. If you opt for the bottomless mimosas, they will keep serving them as long as you have food in front of you. They also offer fresh donuts as a complementary appetizer. They are tasty little cinnamon sugar donuts with a lemon and berry compote. This place is usually packed, so reservations are highly recommended for brunch. When we went on a Wednesday night for the mac and cheese, no reservations were necessary. Street parking was also easy to find. All in all, Brix is a really solid local restaurant that has been around for a little over 11 years!