Authentic Vietnamese in brownstone Brooklyn
at Mekong BK. 
Stepping down into Mekong BK, guests are instantly transported to Vietnam with the aroma of coriander, garlic, ginger, and lemongrass. Set on the first floor of a corner brownstone on the border of the Clinton Hill and Fort Greene neighborhoods in northwestern Brooklyn, Mekong BK is a piece of Vietnam worth seeking out. 
Opened by the late Brian Bui, Mekong BK's Dekalb Avenue spot is the third home to Mekong BK, which first opened on Prince Street in Manhattan and then King Street before being priced out in 2016 and finding a home in Brooklyn in a part of the borough where Vietnamese food is hard to come by. It should also be noted that guests have to step down a few stairs to get into the warm and welcoming restaurant, and they don't open until 1 p.m. for lunch.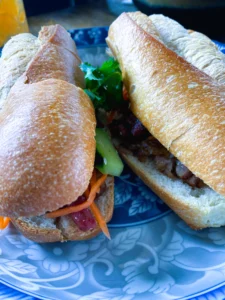 The menu is packed with Vietnamese dishes, including many vegetarian options, including appetizers like crispy vegetarian spring rolls with tofu, mung beans, glass noodles, and mushrooms, served with sweet and spicy dipping sauce, lettuce, and fresh herbs to wrap. Their mains include lightly fried bean curd sautéed with broccoli, peas, mushrooms, Napa cabbage, tomatoes, and onions; crispy seitan with water spinach, onions, and Asian basil; and bun, vermicelli, lettuce, cucumber, fresh herbs, and roasted peanuts topped with crispy vegetarian spring rolls. 
The restaurant uses the freshest ingredients, sourcing them daily, and the kitchen team cooks each dish the same day. There's no antibiotics, hormones, or GMOs in the poultry and the beef is pasture raised and grain finished. Also, ​​none of the dishes come with rice, so if you do want rice, you will have to order it as a side. 
Each dish tastes like home cooking, whether it be appetizers (such as spicy crispy chicken wings; fresh summer rolls with lemongrass tofu, lettuce, cucumber, herbs, bean sprouts, and vermicelli, served with peanut dipping sauce; and grilled marinated chicken on a skewer with sesame seeds and peanut dipping sauce), salads (such as shrimp papaya salad with fresh green papaya, carrots, fresh herbs, Asian chili paste, peanuts, and lime served with shrimp chips), or mains (such as pho, bánh mi, and bun).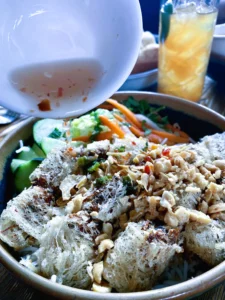 The bar is well stocked with beer, wine, and cocktails like the Mekong Margarita (Sauza Conmemorativo, Malibu Rum, triple sec, pineapple, and lime juice), Mekong Breeze (Maker's Mark, Canton Ginger liqueur, tea, and simple syrup), Lychee Martini (Kettle One, lychee juice, and a dash of Crème de Cassis), and Mekong White Russian (Stoli Vanil, Toby's Estate espresso, and condensed milk). 
During our most recent visit for a late lunch, we were sat at a sundrenched table next to a window and were treated to lightning fast service as we are accustomed to at Mekong BK.  
We ordered bánh mi, which is a Vietnamese baguette sandwich with roasted pork, pâté, scallion, cucumber, cilantro, pickled carrots, radish, and jalapeño. We also got bun, which is topped with crispy Vietnamese spring rolls and served with vermicelli, lettuce, pickled carrots and radish, bean sprouts, fresh herbs, and peanuts. We didn't order appetizers because the portions are so generous. 
Each ingredient is flawless from the pungent and tangy nước chấm to the perfectly crisp spring rolls to the warm toasted crushed peanuts, creating a superlative synergy. We complemented our meals with authentic and expertly made ice tea lemonade. Each bite is a multi-sensory trip to Vietnam that keeps us (and soon, you!) coming back month after month.