Beautiful baked goods from a bearded baker in Brooklyn
only at The Bearded Baker.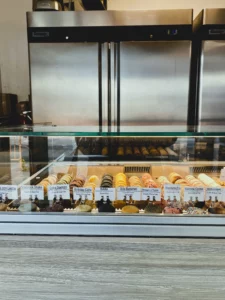 It's fitting that The Bearded Baker opened on Valentine's Day 2021 as each of the Boerum Hill bakery's treats is made with an abundance of passion and love. The Bearded Baker is Scott Krevat, who studied chemistry at New York University and combined his education in chemistry with his love of late-night snacks to produce creative takes on classic baked goods. The result is a tiny bakery in a leafy brownstone neighborhood in northwest Brooklyn. For food fanatics that don't want to make the trek to Brooklyn, The Bearded Baker also ships nationwide. 
The Bearded Baker's first foray was macarons, which still dominate the menu and pastry case. Fanciful macaron flavors include Churros Con Leche, Blood Orange & Lime, Pistachio Rose Cardamom, Lavender Raspberry Citrus, and Reese's PB Cup. Standouts are the Rainbow Cookie, a take on the Italian classic, and Silly Bananas, made with Dumb Fruit Sour IPA, bananas, mangos, and pineapple. 
Upon entering the quaint corner storefront awash in royal purple, visitors are greeted by the affable staff who bustle about behind the counter. Within seconds, guests are made to feel at ease and oriented to the sweet and savory menu of baked delights, which includes empanadas, cookies, and coffees. There are also gluten-free and vegan treats.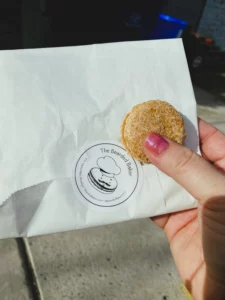 When we visited in the morning, the duo behind the counter were busy, one using the mixer to whip up something delightful and the other behind the espresso machine. Both were chatty and eager to answer questions and offer suggestions for what to grab and go (the bakery doesn't have seating). 
What better way to start the day than with a coffee, beef or chicken empanada, and a sweet treat plus a specialty dessert for later? Deciding on one or two treats is tricky. One glance at the air fried brioche donuts, ice cream sandwiches, and freshly baked cookies and you will quickly realize that what you really want is one of everything, which isn't a bad idea. 
In addition to the signature macarons, don't miss The Bearded Baker's take on the rich and satisfying Nanaimo Bar, a no-bake British Columbian dessert bar with graham cracker, coconut flakes, and toasted Rice Krispies filled with chocolate custard and topped with buttercream and chocolate ganache.  
Also worth the indulgence is the Razzle Dazzle Sugar Cookie, which is stuffed with a Rice Krispies treat and coated with colorful rainbow sprinkles.  
During our visit, we tried the dulce de leche macaron, a chocolate chip cookie, and a cappuccino. The macaron was pure bliss, as perfect in taste as in presentation, and the cookie was chewy in the middle and crispy on the edges.  
Can't decide what to order? It's a delicious dilemma with a satisfying outcome; anything you order will be fabulous.